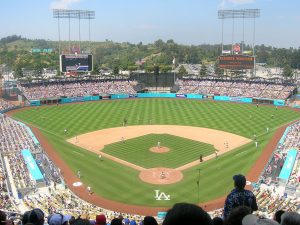 Credit: Frederick Dennstedt from los angeles, usa – Dodger Stadium
Mookie Betts has not played an official Major League Baseball game with the Los Angeles Dodgers, but that didn't stop them from signing the 4-time All Star to a mega 12-year, $365 million dollar contract extension, with a whopping record-breaking $65 million dollar signing bonus.
The monster deal guarantees the former AL MVP & 3-time Silver Slugger Award winner his current annual salary of $10 million (the prorated amount of his $27 million salary) in addition to the $65 million, regardless if there's an MLB work stoppage due to Covid-19 during the 2020 season and beyond. The MLB season is set to start today with the Dodgers taking the field for their first regular season game of the year against the San Francisco Giants, at Dodger Stadium @7:07pm PST.
Betts, a natural born leader, who will be 28 years old in October, is now set to patrol right field for the Dodgers, with his 4 American League Gold Gloves Awards, he won as a member of the Boston Red Sox. Betts was traded to the Dodgers, along with David Price, in a salary dump by the Red Sox during last year's off-season for a package which included young prospect, Alex Verdugo & a handful of Minor League players. The timing of this signing is perfect for the Dodgers and what all Los Angeles fans have been hoping for because if MLB decided to cancel the 2020 season, the Dodgers could of lost Betts's services entirely as he was set to become a free agent going to the 2021 season.
The signing of Betts came out of nowhere for the Dodgers but shouldn't come as a surprise because the decision was a no brainer for LA's GM Andrew Friedman, even though Betts has yet to have one official at-bat with the Dodgers, who are coming off 7 straight National League titles. The Dodgers have very deep pockets but haven't pulled the trigger like this before with such a major splash.
The addition of Betts now gives the Dodgers two of the most potent all-around players in MLB, along with reigning 2019 NL MVP Cody Bellinger, along with a cast of other All Stars & sluggers. During his time with the Red Sox, Betts cemented himself as one of the best offensive & defensive players in the MLB and over a span of the last 4 years Betts has slashed .302/374/524 while averaging 27 home runs, 43 doubles, and 24 stolen bases. The signing of Betts turns  his elite team into potentially a historically dominant one, as the Dodgers tries bringing a World Series title back to LA for the first time since 1988. And this decision to extend Betts's contract, they have the chance to become a dynasty.