Does Plug Power Have Room To Grow After Downside Guidance – CWEB.com
Plug Power (NASDAQ:PLUG) plunged after it reveald disappointing guidance for Q1 and FY 2018 revenues.
For Q1, Plug sees Q1 revenues of $22M-$24M, well below analyst consensus expectations for $38.3M, and an adjusted EBITDA loss of $11M-$13M vs. a $15M loss in the year-ago quarter.
For the full year, the company forecasts revenues of $155M-$180M vs. $220M consensus.
After a series of deals with big companies, Plug Power (NASDAQ:PLUG) seems to have cornered the market for fuel cell powered warehouse equipment like forklift trucks.
Shares of fuel cell power companies including Plug Power (NASDAQ:PLUG), FuelCell Energy (NASDAQ:FCEL), Ballard Power (NASDAQ:BLDP) and Hydrogenics (NASDAQ:HYGS) always rally higher with awareness of recent natural disasters including hurricanes and earthquakes.
PLUG shares have gained more momentum and it should continue to deliver more upside due to ambitious growth targets.
CWEB Analyst's have initiated a Hold Rating for NASDAQ:PLUG  and a Price Target of $4 within 12 months.
Read Full Article and Videos CWEB.com – Trending News, Blog, Shopping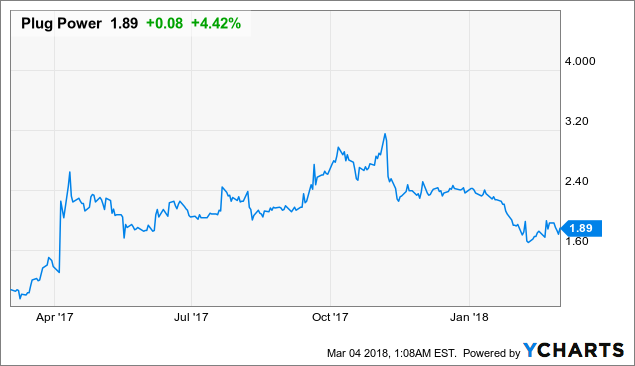 Disclosure: I/we have no positions in any stocks mentioned, and no plans to initiate any positions within the next 72 hours.