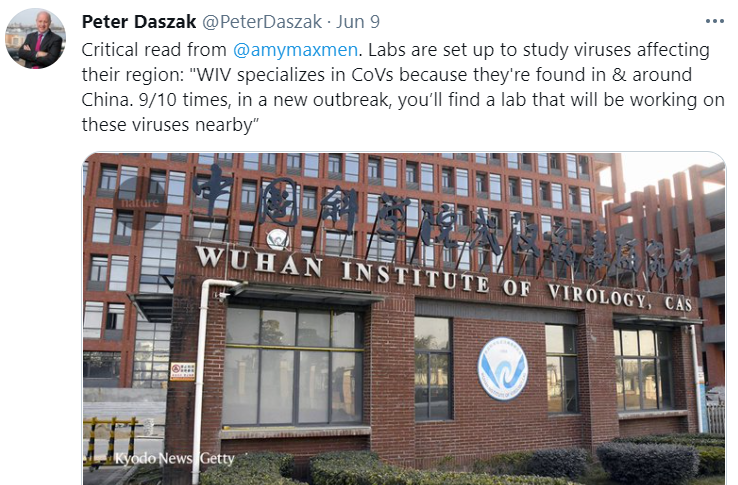 British scientist Dr. Peter Daszak has been recused from UN COVID commission that is looking into the origins of the coronavirus. Months ago, he had denounced the theory that the virus could have leaked from a Wuhan lab. Subsequent investigations showed that he had close ties with the Wuhan Lab of Virology (WIV).
The UN website reported that he is no longer a part of the investigation by adding "recused from Commission work on the origins of the pandemic." The sentence was added on the website in brackets. It was placed above his biography and below his photo.
Dr. Peter Daszak, a Ukrainian born British zoologist had spoken against theories that mentioned that the coronavirus could have leaked from a lab. He wrote an open letter to the respected journal "The Lancet" along with 26 scientists, calling a "lab leak" a conspiracy theory.
This is now considered to be a cover up as Dr. Daszk is the director of the company EcoHealth Alliance. The company has funded research done by Dr. Zhengli, who is also called "Batwoman," in WIV. He has also admitted that there may be bats in the Wuhan lab, although he had said that there were no bats earlier on.
Dr. Daszak is in a number of committees investigating the origins of the virus and this conflict of interest as well as the earlier letter to "The Lancet" has made many apprehensive of him continuing in these roles.
Two of the scientists who signed the letter to  "The Lancet" in late January now mention that there may be a chance that the coronavirus could have leaked from a lab. They say that they have an open mind about the lab leak theory, although they still say an animal origin theory is paramount. They are  Dr. Jeremy Farrar, director of the Wellcome Trust in London and Dr. Peter Palese, a microbiologist at the Icahn School of Medicine at Mount Sinai, New York.
When Daily Mail contacted Dr. Richard Horton, editor of "The Lancet" and asked for comment about the published letter, both he and his office declined to comment.
The Daily Mail also tried to contact De. Peter Daszak in his home in the tony neighborhood of Rockland County in New York. He told them that they needed to remove their car from his drive immediately and that they should "leave the area and never come back."
He added, "Goodbye, I have no comment.
Photo Twitter