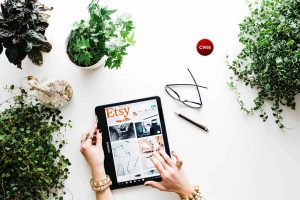 Etsy is the global marketplace for unique and creative good connecting millions  of buyers and sellers
Etsy  (ETSY) – Etsy blew away second-quarter earnings expectations with online shopping reaching top levels from consumer ordering due to COVID-19.
Profits came in at  in at $96.4 million  at 75 cents a share.  five times 14 cents a share, the year-earlier period. Analysts expected net income of 39 cents a share in the latest quarter. Revenue more than doubled to $429 million in the quarter from $181 million in the year-ago quarter.
18.7  million new buyers shopped on Etsy this quarter.  Many consumers purchased hard to find masks from Etsy when sellers started to customize them. Etsy was able to fill that void.
The stock has nearly tripled this year, compared with a rise of 3% for the S&P 500. Share up over 200 percent this year. We see this trend continuing for the long term as peoples buying habits have changed. Stocks like Amazon, Etsy and eBay will benefit from this consumer trend going forward.
GMS growth excluding mask sales for the Etsy marketplace was 93%, up $1.0 billion year-over-year, and 14% of the Etsy marketplace's overall GMS was from mask sales. Excluding masks, homewares and home furnishings, our top category, was up 128% year-over year, jewelry and accessories was up 50%, and craft supplies was up 138%.
Etsy marketplace's GMS per active buyer on a trailing 12-month basis grew 5% year-over-year and 6% excluding masks, higher than the record growth reached last quarter and evidence that we drove an increase in frequency during the second quarter.
In the second quarter, the Etsy marketplace delivered 11.5 million new buyers and 7.2 million reactivated buyers who haven't purchased in a year or more.
GMS from paid channels was 21% of overall GMS in the second quarter of 2020, expanding 600 basis points compared to the second quarter of 2019.
Consolidated active buyers grew 41.0% year-over-year in the second quarter, and active sellers grew 34.6% year-over-year.
"Our extremely strong second quarter results, with consolidated GMS and revenue up 146% and 137% respectively, are a testament to the agility of our team, the strength of our brand, the innovation of our sellers, and the unique and special nature of inventory on our core Etsy marketplace," said Josh Silverman, Etsy, Inc. Chief Executive Officer. "Our mission to 'Keep Commerce Human' matters now more than ever – and we are showing the world just how many purchase occasions our sellers can meet in a truly delightful way. Etsy marketplace GMS increased 125% in the quarter, as we are attracting new buyers and engaging our existing customers more than ever before. Our 'Right to Win' strategy provides a clear and enduring roadmap for product and marketing investments that make it easier to shop on Etsy, build top of mind awareness, and solidify buyer trust.
Couple this with the strength of the Reverb marketplace, and we have a solid foundation for long-term growth and are well positioned to build on our momentum." Source Etsy Investor Relations
Josh Silverman is Etsy's Chief Executive Officer, leading the company as it builds a platform that empowers creative entrepreneurs around the world. He is also a member of Etsy's board of directors.
Josh's two decades of leadership experience include growing consumer technology companies and scaling global marketplaces. He previously served as President of Consumer Products and Services at American Express, CEO of Skype, and CEO of shopping.com, and he held various executive roles at eBay. Earlier in his career, Josh co-founded Evite, Inc. where he also served as the company's CEO. He is currently on the board of directors of Shake Shack.
Josh has a deep commitment to community and civic engagement. He currently serves as Chairman of Code Nation, a non-profit that equips students in under-resourced schools with both fundamental coding skills and professional experiences. He's also a member of the Stanford Business School Management board and was previously on the board of the Lincoln Center Theater. Source: Etsy
Photo by Brooke Lark on Unsplash