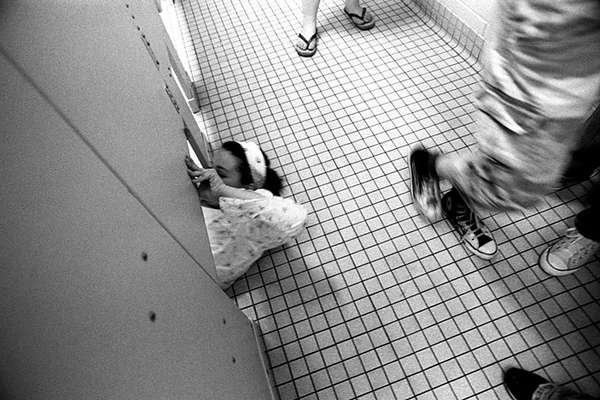 CWEB.com – Multiple male students from South Fort Myers High School are believed to have had sex with a 15-year-old female in a campus bathroom after school ended Tuesday.
This young 15 year old girl goes into a bathroom with 25 guys, has sex with at least 16 of them and they weren't even going to do anything until the video surfaced and pushed them into a corner where they had no other choice but to react to this horrific sexual abuse crime. Even if it was "consent", a 15 year old can't give consent in the state of Florida, least of all to 25 men on school grounds.
South Fort Myers High School Bathroom Sex Video: 5 Fast Facts You Need to Know. Parents, students and staff have expressed shock after a 15-year-old girl had sex in a Florida high school bathroom with more than two dozen boys, authorities say. The incident, which was recorded on cell phones, occurred after school last Tuesday, May 17, at South Fort Myers High School, the Lee County Sheriff's Office told the News-Press. Here's what you need to know:
1. 25 Boys Were Seen Entering the Bathroom While the Girl Was Inside The investigation into the incident began on Wednesday, and a deputy reviewed security camera footage which he says showed 25 boys entering the bathroom during the time that the girl was inside, the News-Press reports. Principal Melissa Layner told the newspaper she spoke with the girl, who "confirmed that she had sex with a number of willing males." Authorities did not say how many of the boys had sex with the girl. "I just don't see how that could've happened because there is so much security in there," student Erin Bollinger told WINK-TV. "Like the teachers are really on top of all of that."
2. Video of the Incident Was Posted to Snapchat by One of the Boys. One of the videos was posted to Snapchat, and a saved version eventually leaked to social media. "I've just heard that they were all filming it and I just think it's really wrong. That shouldn't have happened. They locked themselves into the bathroom," Lisa Purnell, who was picking up a student at the school, told WBBH-TV.
The graphic video, showing the girl engaging in multiple sex acts with several boys, made its way to Twitter, where it was shared by thousands, including one account with 149,000 followers, @lil_boosie4, which has since been suspended by Twitter.
"She said mom this girl head was in the toilet bowl and she looked like she was dying and there were a whole bunch of guys in there taking turns with her. It is child porn and it is happening right here in front of our face in front of our children's face," a mother, who asked not to be identified, told WINK-TV. "I heard a video was around but I never really saw it or anything. It just like circulated around," student Petislin Cadeau told WFTX-TV.
3. The Girl's Mother Does Not Plan to Press Charges, but the Students Involved Were Disciplined by the School & Police Are Still Investigating
The girl's mother told the Lee County Sheriff's Office that she and her daughter do not want to press charges.
Last week, the sheriff's office said it would not be investigating, but on Monday, it told WINK-TV that it would be looking into the incident, along with the Department of Children and Families.
[youtube https://www.youtube.com/watch?v=9yCCVJnECeY]
 Get a chance to win a free movie or a concert ticket when you vote for the celebrity or movie we review on CWEB.com