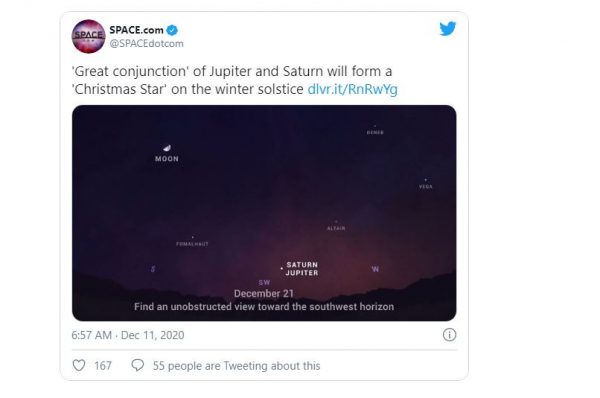 Look upwards towards the sky on December 21, the Winter Equinox, the shortest day of the year and spot a rare celestial occurrence that hasn't been seen so close from nearly 800 years.
Two of the solar systems largest planets, Jupiter and Saturn, will be moving close to each other, every evening, this week. On December 21, they will line up almost perfectly. It will appear as if they are touching and would look like a bright double planet.
The alignment of celestial bodies is called a conjunction by astronomers. This particular alignment is a "great conjunction" as they are huge planets. Since, this event is taking place during the holiday week, many are calling it the "Christmas Star."
In a news release NASA officials said, "Look for them low in the southwest in the hour after sunset."
It is suggested that you look down from the moon to the horizon. Then scan the sky to the right and you could spot the planets. If you are unable to see them, take the help of smart phone apps and identify the celestial bodies in the night sky.
The last time Jupiter and Saturn appeared so close to each other was on March 4, 1226. Although great conjunctions happen within two decades – every 19.6 years to be precise, NASA says that the next great conjunction with a similar closeness will occur only in 2080.
Photo Instagram Space.com