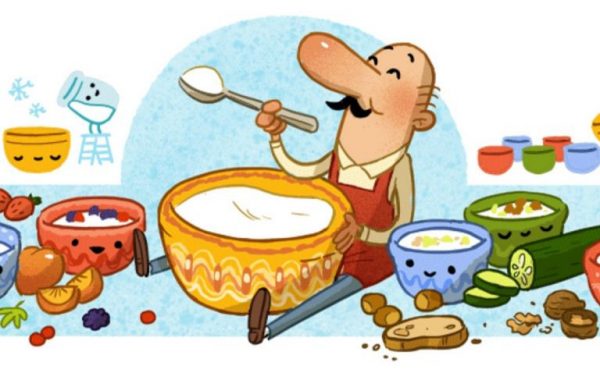 Google Doodle honored Dr. Stamen Grigorov, today October 27, 2020 on his 142nd birthday in its daily doodle. Grigorov is a Bulgarian scientist and microbiologist who discovered the unknown bacteria that fermented milk to form yoghurt. We now call this bacteria "Lactobacillus bulgariicus." Research has shown that bacteria ferments lactose (milk sugar) into lactic acid, which gives it a pleasant, yet sour taste.
The story goes that Dr, Grigorov's wife sent him food from Bulgaria, to remind him of home, as many people believe that home food is the best and most comforting food. The package included some yogurt. Feeling inspired by the gift and remembering that yogurt has traditionally been considered to be a health food, he examined a little bit of it under a microscope. He discovered the unknown bacteria and it was named lactobacillus bulgaricus. He made this discovery in 1905, when he was working at the Medical University in Geneva, Switzerland, from which he had earlier received a doctorate, the previous year. He also helped to develop a vaccine for tuberculosis.
Jay Z- launches $300 Earbuds Competing with Apple Air Pods Pro
The Google doodle today features a cartoon sketch of the good doctor sitting with a huge bowl of yogurt and holding up a spoonful. He is surrounded by many fruits including berries and veggies and garlic, all of which are added to natural yogurt to make it flavorful.
Source: 9to5google.com