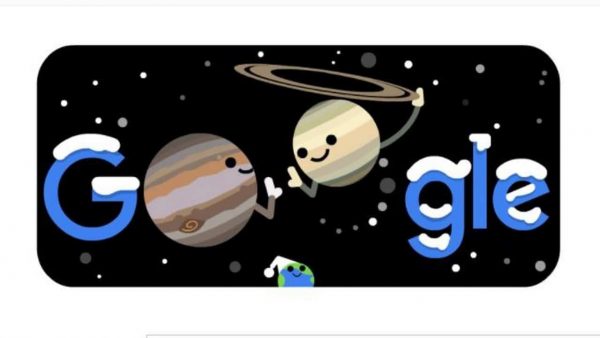 Today Google doodle celebrates two important natural events, one being the annual Winter Solstice and the other being the great conjunction.
Google has made an attractive doodle to commemorate these events. Browsers will see Jupiter occupying one of the O's in its iconic logo. Saturn, with its beautiful rings, will represent the other O.
Both the planets exchange a high-five. In these times of social distancing due to pandemic, it's nice to see a high-five, albeit a virtual one.
The Winter Solstice falls on December 21, each year. It is the the shortest day and longest night of the year. It is also called Yule, Jol, Midwinter or the Longest Night.
The Great Conjunction is a rare event that occurs when two great celestial bodies come close to each other and pair. This year Jupiter and Saturn, the two largest planets in our Solar System will come so close to each other that they will look like a double planet. The last time an event where the planets were this close, was way back in 1226.
Google states: "Based on their orbits, from our vantage point on earth, Jupiter and Saturn will cross within .1 degrees of each other (a fraction of the width of the full moon)."
The next conjunction that will see the planets so close to each other will be in 2080.