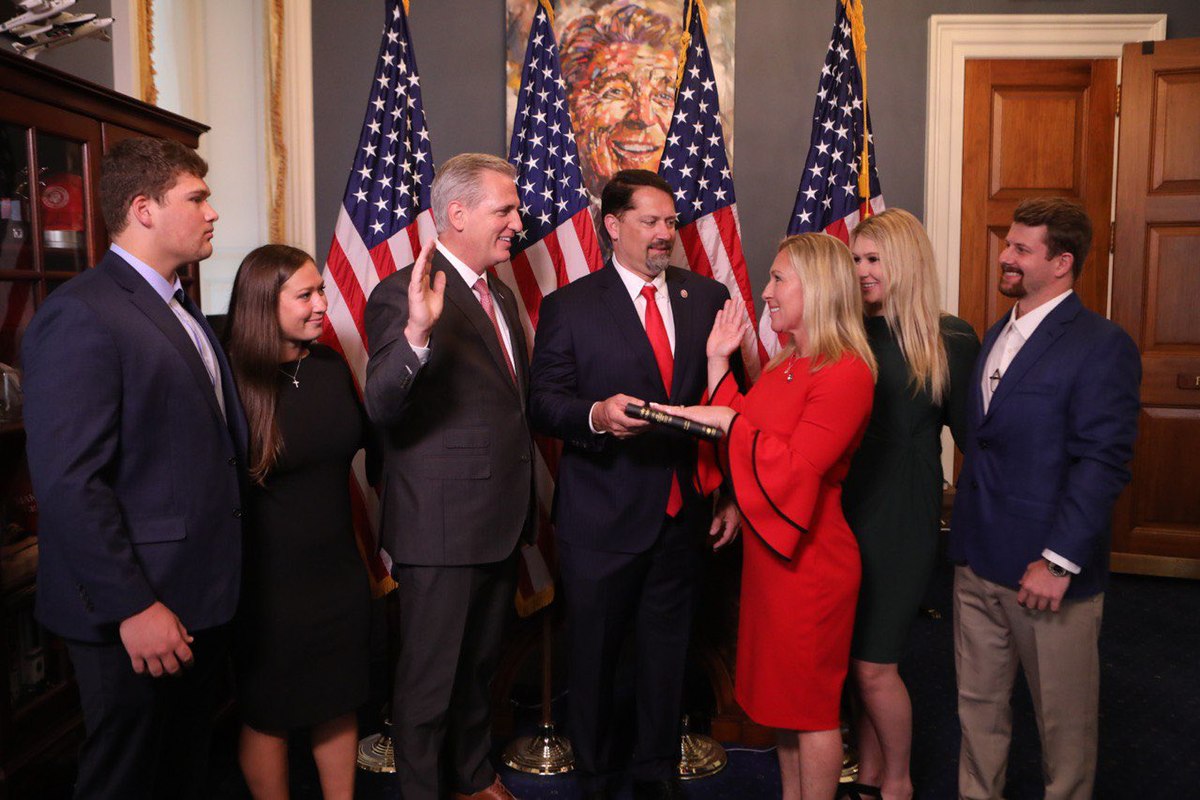 Representative Marjorie Taylor Greene cannot stay away from controversies and conspiracies. The QAnon supporter has been given a wide berth by the GOP in the past, as she is a favorite of former president Donald Trump but her recent comments have angered top Republican leaders and more. She compared the horrors of the Holocaust to the wearing of masks. Commenting on Nancy Pelosi's mask mandates for unvaccinated lawmakers in the House, she told David Brody on his Christian Broadcasting Network podcast that the rules were similar to the "gold star" that Jews had to wear in Nazi Germany.
Her latest comments on her repeated comparisons of wearing masks to the Holocaust have finally jolted the GOP to condemn her remarks.
Republican House Minority Whip Scalise, commented that he did not agree with the comments she made and condemned the "comparisons to the Holocaust."
Republican House Minority Leader Kevin McCarthy released a long statement where he said that Marjorie was wrong and that her intentional decision to compare the horrors of the Holocaust with wearing masks was appalling. He said that the Holocaust was the greatest atrocity committed in history. He added that the fact that it needed to be stated was deeply troubling.
He added that Americans must stand together to defeat anti-Semitism and any attempt to diminish the history of the Holocaust. He clearly said that "The House Republican Conference condemns this language."
Ben Shapiro, who is both conservative and Jewish, responded to one of her posts calling it "demented nonsense." He said that any comparisons to the Holocaust were both "insulting and insane."
Liz Cheney, the Republican from Wyoming who was removed from the Number 3 position in the House for calling out Trump's baseless election fraud allegations as the "big lie" tweeted on Saturday saying that it was "evil lunacy."
Former Representative Denver Riggleman called her comments a grotesque idiocy that was mixed with a neurotic lack of self-awareness. He also asked what one could expect from a truther, a Q believer and a gas lighting conspiracy theorist.
Political scientist Jasmin Mujanovic called it ant-Semitism that was of a most despicable and deranged sort.
House Majority Leader Chuck Schumer, who is a Jewish Democrat, called her continued comparisons "sickening and "reprehensible." He urged her to stop using "vile language immediately."
Rhode Island Congressman David Cilline explained the Holocaust as the systemic murder of 6 million Jews. He explained mask wearing as a simple act that costed nothing and saves lives and he described Marjorie Taylor Greene as a troubled person who was unfit to serve in Congress.
Several Jewish groups including the American Jewish Congress called for a retraction of her comments and an apology. Marjorie Taylor Greene apologized to date.
Her tweet is
7. I'm sorry some of my words make people
Uncomfortable but this is what the America left is all
And they are America last in every single way.