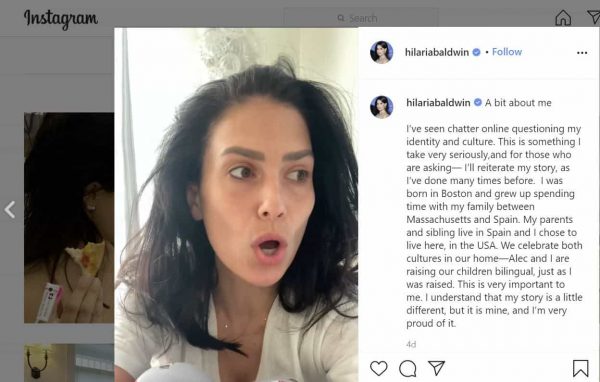 Hillaria Baldwin, a social media influencer and wife of actor Alec Baldwin has been in the center of controversy regarding her Spanish heritage. It has created controversy, ridicule and speculation.
On Wednesday, Hillaria cleared up some of what was fact and some of what was fiction in an interview with the New York Times. The Times grilled her and showed proof of the instances of the controversies surrounding her heritage.
Hillaria admitted that she was born in Boston, U.S. and changed her name from Hillary to Hillaria. She says that she changed her name to the Spanish version as that's how her Spanish family refers to her. She also said that her parents are American, but they have visited Spain often as a family and they now live there.
The 36-year-old influencer also called the "cucumber incident" a result of nerves as she was nervous of being interviewed. On a clip played by a twitter user @lenibriscoe she struggles to remember the word cucumber in English. The twitter user also says that she "impersonates a Spanish person."
Baldwin defends herself telling the Times that she is bilingual and reverts to Spanish when she is emotional. She  attributes the mention of her being born in Mallorca, Spain, as a "disappointing" error.
Comedian Amy Schumer however had the last word on the controversy with her funny video. She shared a video where she was wearing a large sun hat. She wrote, "I get it. I went to Spain a couple of times and loved it too." It almost goes without saying that Schumer remembered to add a cucumber emoji in her post.