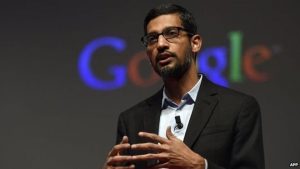 Sundar Pichai  is one of the world's highest-paid executives. In 2019 he was awarded $281 million in total compensation.  When Google's co founders Larry Page and Sergey Brin were stepping down from the company, they picked Pichai to take over as Alphabet CEO.
Sundar Pichai joined Google in 2004, the same day that the US-based tech giant launched Gmail
He played an important role in the launch of several key products such as Google Chrome, Gmail, Google Maps and expansion in cloud.
One of the great achievements for Pichai was the development of the Chrome Browser that  occurred after Microsoft made Bing the default browser for Explorer.
The Los Angeles Times reports- In 2014, he was tapped to lead product and engineering for all of Google's products and platforms, including Gmail and Android. The next year, he was leading the company. He joined Alphabet's board of directors in 2017.  Source: LA Times–
Sundar Pichai is the CEO of Alphabet Inc. (GOOG)Nasdaq. Pichai's annual salary is $650,000, and  will increase to $2 million in 2020, He will receive a performance-based unit  stock award. That award is a total of 120 million dollars divided up into two grants. The grant amount will be given depending upon the stock amount at the time it is dispersed.

Insider Information: PICHAI SUNDAR Chief Executive Officer- Conversion of Exercise of derivative security: Mar 24, 2020  106,742
According to TipRanks.com – There is a  strong buy based on 34 analyst ratings
Top Institutional Holders
Holder  Shares  Date Reported  % Out    Value
Vanguard Group, Inc. (The)          23,162,950           Mar 30, 2020      6.87%    26,934,109,889
Blackrock Inc.     20,264,225           Mar 30, 2020      6.01%    23,563,443,472
Price (T.Rowe) Associates Inc      12,520,058           Mar 30, 2020      3.71%    14,558,448,642
State Street Corporation               11,814,026           Mar 30, 2020      3.50%    13,737,467,573
There were a total of 147 hedge funds with a bullish position in Google Alphabet.
The largest stake in Alphabet Inc (NASDAQ:GOOGL) was held by Fisher Asset Management, which reported holding $1736.5 million worth of stock at the end of September. It was followed by Citadel Investment Group with a $1585.4 million position.
Alphabet is a blue-chip stock, which is only seeing an increase in both revenue and company value each year. The company has good fundamentals and regularly reports good financial figures. For long-term investors, Alphabet Inc. is definitely worth a buy as analysts predict that the company will continue to do well given its strong fundamentals and recent new technology developments.
CWEB market analysts believe that Google will go above $2000 per share in 2021.
CWEB.com is not registered as an investment adviser with the U.S. Securities and Exchange Commission. Rather, CWEB.com relies upon the "publisher's exclusion" from the definition of investment adviser as provided under Section 202(a)(11) of the Investment Advisers Act of 1940 and corresponding state securities laws.