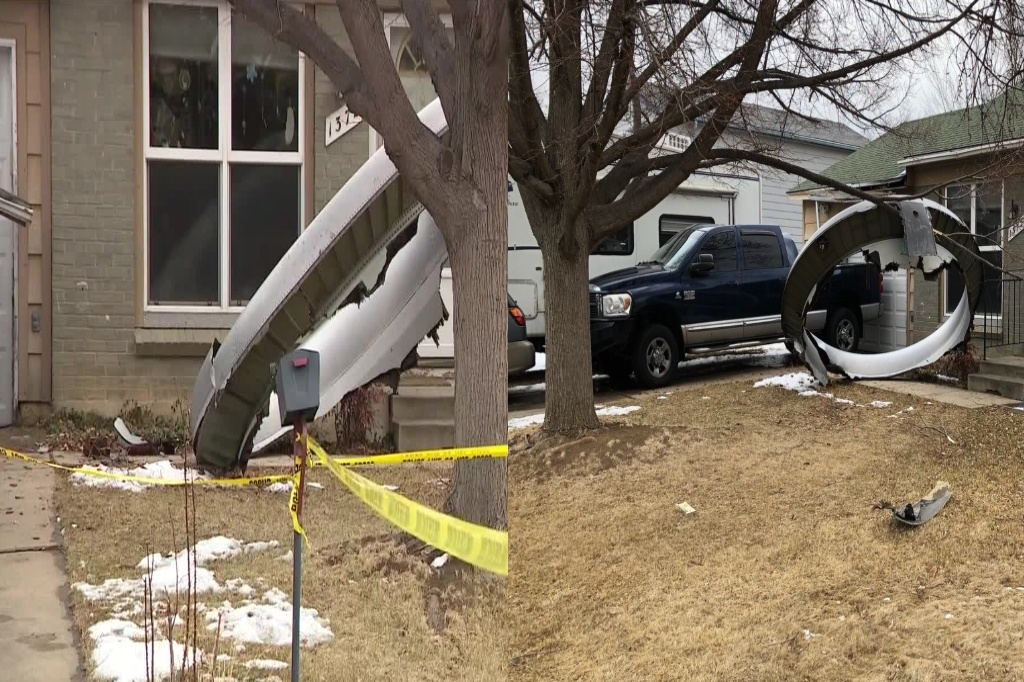 Broomfield, Colorado — Large pieces of metal fell down on northwest Denver metro neighborhoods Saturday afternoon after a United Airlines Boeing 777 plane reported engine trouble. It was United flight from Denver to Honolulu that experienced engine failure.
More video coming in from United flight.

Can you even imagine. #9news pic.twitter.com/8FdeFLxret

— Chris Vanderveen (@chrisvanderveen) February 20, 2021
The flight, with 231 passengers and 10 crew members on board, returned to DIA and landed safely. Passengers deplaned on the runway and were bused to the terminal, the FAA said.
Debris from the plane fell onto a wide area of Broomfield, affecting homes and property in the Northmoor and Red Leaf neighborhoods. Parts were seen scattered in parks, lawns and on rooftops. An engine intake cowl fell on a truck, crushing the roof.
Tyler Thal, who lives in the area, told The Associated Press that he was out for a walk with his family when he noticed a large commercial plane flying unusually low and took out his phone to film it.
Former National Transportation Safety Board Chairman Jim Hall called the incident another example of "cracks in our culture in aviation safety (that) need to be addressed.
Hall, who was on the board from 1994 to 2001, has criticized the FAA over the past decade as "drifting toward letting the manufacturers provide the aviation oversight that the public was paying for." That goes especially for Boeing, he said.