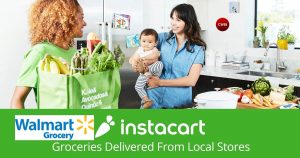 Amazon will now face competition from Walmart owned Sam's Club for same day delivery. If the partnership goes well, it could mean that Instacart will deliver goods from Walmart super centers.
Sachin Padwal, Sam's Club's VP of Omnichannel and In-Club Product says in the press release, "Instacart is a trusted partner by so many customers, we are thrilled to be launching this service with them."
Walmart (WMT) moved up 1.96%, moving +1.96% from the previous trading session. The stock outpaced the S&P 500's daily gain of 0.27% and closed the most recent trading day at $131.88.
Walmart (WMT) earnings release of earnings of $1.22 per share is expected by August 18, 2020. That is down 3.94%.
In other news- Walmart is lifting the curtain on plans for the Walmart Drive-in, a drive-in movie theater experience, which is rolling into 160 Walmart stores across the country beginning this month, created in partnership with the Tribeca Film Festival. Source Walmart Investor Relations
Available for free to Walmart customers, the Walmart Drive-in will transform Walmart parking lots into outdoor cinemas from August 14 through October 21 with 320 showings of hit movies. Starting today at 5:00 p.m. ET, families can visit TheWalmartDriveIn.com to discover dates, store locations and the movies for each stop of the movie tour.-
Doug McMillon is president and CEO of Walmart Inc. Under Doug's leadership, Walmart is making life easier for busy families and building trust with customers. It is investing heavily in associate wages, benefits, and education—including a debt-free, dollar-a-day college program and an expanded parental leave policy. And, it launched an ambitious program, Project Gigaton, to combat climate change and work with suppliers to avoid 1 billion metric tons of emissions worldwide. Source: Walmart Executive Team
Walmart Inc. (NYSE: WMT) helps people around the world save money and live better – anytime and anywhere – in retail stores, online, and through their mobile devices. Each week, over 265 million customers and members visit approximately 11,500 stores under 56 banners in 27 countries and eCommerce websites. With fiscal year 2020 revenue of $524 billion, Walmart employs over 2.2 million associates worldwide. Source Walmart Investor Relations
Photo Credit : Instacart