Alibaba Group Holding Limited (BABA) NYSE stock has been a huge  winner since its IPO in September 2014. Alibaba's business in China looks similar to  Amazon's in the U.S. Alibaba's cloud-computing business has  solid growth.
Alibaba's video-streaming platform Youku,  music streaming service, Xiami are rising. Alibaba also has a licensing agreement with Walt Disney (DIS) unit Buena Vista International  for Disney content.
Alibaba continues to deliver positive growth. The company reported a 47% rise in quarterly profit on Feb. 13. Sales increased 36% to $23.2 billion.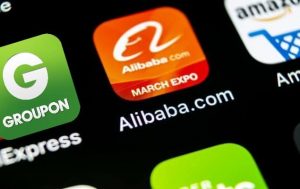 Alibaba (BABA) disclosed in an SEC filing Feb 16, 2016 it acquired nearly 33 million shares of Groupon in the fourth quarter. That works out to about a 5.6% stake. This makes Alibaba the fourth-largest owner of Groupon. Shares of Groupon (GRPN) soared more than 40% in midday trading. 
Daniel Zhang is a Chinese technology executive. He is currently the CEO of Alibaba Group] Before becoming the CEO, Zhang was best known for his roles as CEO of Taobao and president of Tmall (owned by Alibaba). While running Tmall, Zhang created the Singles' Day shopping holiday, an annual Chinese sales event with gross sales three times higher than Black Friday and Cyber Monday combined Source: Wikipedia
Further, Alibaba's strengthening cloud business with its expanding customer base continues to drive its performance. Its New Retail strategy is also gaining momentum. This is aiding growth in Tmall Import, Hema fresh food grocery business and Intime Department Stores.
With strong earnings and sales growth in recent quarters  and  excellent 12-month price performance, we believe Alibaba Group Holding Limited (BABA) NYSE is a strong buy and room to grow.
Top Institutional Holders
Holder  Shares  Date Reported  % Out    Value
Blackrock Inc.     88,193,322           Mar 30, 2020      3.29%    17,151,837,262
Vanguard Group, Inc. (The)          65,926,851           Mar 30, 2020      2.46%    12,821,453,982
Price (T.Rowe) Associates Inc      64,313,239           Mar 30, 2020      2.40%    12,507,638,720
Baillie Gifford and Company        51,146,770           Mar 30, 2020      1.91%    9,947,023,829
State Street Corporation               37,975,313           Mar 30, 2020      1.42%    7,385,438,872
JP Morgan Chase & Company     27,422,506           Mar 30, 2020      1.02%    5,333,128,966
Top Mutual Fund Holders
Holder  Shares  Date Reported  % Out    Value
Vanguard International Stock Index-Total Intl Stock Indx 23,038,962           Oct 30, 2019       0.86%    4,070,293,416
Vanguard International Stock Index-Emerging Markets Stk            20,964,466           Oct 30, 2019       0.78%                3,703,792,208
iShares Core MSCI Emerging Markets ETF              15,054,331           Jan 30, 2020        0.56%    3,110,074,241
Price (T.Rowe) Blue Chip Growth Fund Inc.            14,393,030           Dec 30, 2019       0.54%    3,052,761,663
Invesco Oppenheimer Developing Markets Fund 13,180,865           Jan 30, 2020        0.49%    2,723,034,900
Vanguard International Growth Fund      11,394,039           Feb 28, 2020       0.42%    2,369,960,112
Europacific Growth Fund              10,830,643           Dec 30, 2019       0.40%    2,297,179,380
Vanguard/Primecap Fund            8,327,976             Dec 30, 2019       0.31%    1,766,363,709
Alibaba delivered better than expected results in its first quarter. Revenues grew by 35% to $72 billion, reported by Yahoo News and so did net profits by 42% to $19.8 billion. The revenue increase is mainly driven by the growth in its domestic retail business and its cloud computing segment. Gross merchandising volumes crossed $1 trillion as more and more merchants flocked to its platforms to generate online sales. Cloud business revenues grew by 58% year over year
We also see a huge investment from Alibaba in Groupon and further making in roads of a long term partnership.
CWEB.com is not registered as an investment adviser with the U.S. Securities and Exchange Commission. Rather, CWEB.com relies upon the "publisher's exclusion" from the definition of investment adviser as provided under Section 202(a)(11) of the Investment Advisers Act of 1940 and corresponding state securities laws.