GrubHub Inc. NYSE: GRUB Grubhub  rises up 11% on reports of potential buyers from  two European peers Just Eat and Delivery Hero. There were rumors of UBER buying out GrubHub, but anti-trust concerns had become a concern.
Offer are coming in as an all-stock transaction and a combination of stock and cash. Grubhub Q1 Earnings Beat  and revenues rose year over year. With restaurants slowly beginning to open due to COVID-19 stay at home orders, many are still unemployed, and this may affect the online food delivery service.
Long term debt as of Mar 31, 2020 was $668.2 million compared with $493 million as of Dec 31, 2019. The company has repaid back a loan  for $175 million from its $225 million revolving credit.
"Matt Maloney is founder and CEO of Grubhub a leading online and mobile food-ordering and delivery marketplace with the largest and most comprehensive network of restaurant partners. Under Matt's leadership, Grubhub has grown its active diner network to more than 22 million users who can order from more than 300,000 takeout restaurants in over 3,200 cities. He led the company through five rounds of investment funding, a 2013 merger with Seamless, and a 2014 initial public offering." Source: https://about.grubhub.com/about-us/executive-team/default.aspx
Top Institutional Holders
Holder  Shares  Date Reported  % Out    Value
Caledonia (Private) Investments Pty Ltd 15,008,694           Mar 30, 2020      16.33%  611,304,106
Baillie Gifford and Company        9,763,814             Mar 30, 2020      10.62%  397,680,144
Blackrock Inc.     8,725,287             Mar 30, 2020      9.49%    355,380,939
Vanguard Group, Inc. (The)          8,499,532             Mar 30, 2020      9.25%    346,185,938
UBS Group AG   4,343,115             Mar 30, 2020      4.73%    176,895,073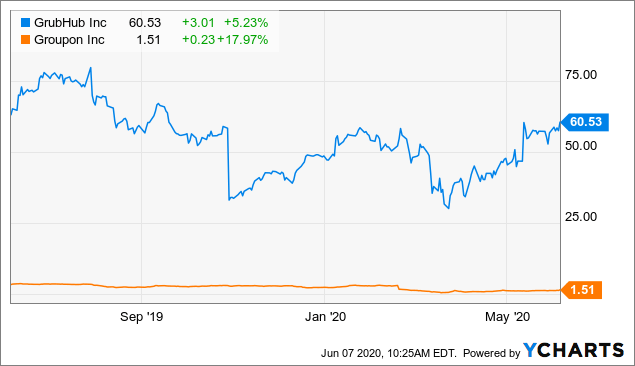 Data by YCharts
Top Mutual Fund Holders
Holder  Shares  Date Reported  % Out    Value
iShares Core S&P Midcap ETF      2,659,124             Jan 30, 2020        2.89%    143,991,564
Vanguard Total Stock Market Index Fund              2,569,600             Dec 30, 2019       2.80%    124,985,344
First Trust Dow Jones Internet Index (SM) Fund  2,415,338             Dec 30, 2019       2.63%    117,482,040
Vanguard Small-Cap Index Fund 2,309,571             Dec 30, 2019       2.51%    112,337,533
College Retirement Equities Fund-Growth Account           1,844,169             Dec 30, 2019       2.01%    89,700,380
Vanguard U.S. Growth Fund        1,734,410             Feb 28, 2020       1.89%    83,442,465
Know we want to pick up on some very interesting fact about a possible partnership or some kind of deal between this two giants. According to an article from Cornell College of Business published on May 23rd by Bryan Burroughs he saw a very clear link between Groupon and Grubhub.
" We also saw potential for strategic partnerships between Grubhub's and Groupon's restaurant relationships. For example, as another group pointed out, Grubhub could sell Groupon discounts to consumers as they were ordering food. This would generate more revenue for the combined company and save customers money—always a win-win! "
Read Full Article  https://business.cornell.edu/hub/2019/05/23/grubhub-groupon-merge/
Grubhub is currently trading around $60 and we can see a huge spike to over $100. Groupon at the same time is the cheapest e commerce platform that has online and offline presence and is currently trading around $1.50 with an upside of $60. Groupon has a very solid portfolio of cash close to $900 Million and sales reaching close to $3 Billion early. It is hard to imagine that stocks who are trading above $20 are not even close to the balance sheet of Groupon.
CWEB.com is not registered as an investment adviser with the U.S. Securities and Exchange Commission. Rather, CWEB.com relies upon the "publisher's exclusion" from the definition of investment adviser as provided under Section 202(a)(11) of the Investment Advisers Act of 1940 and corresponding state securities laws.