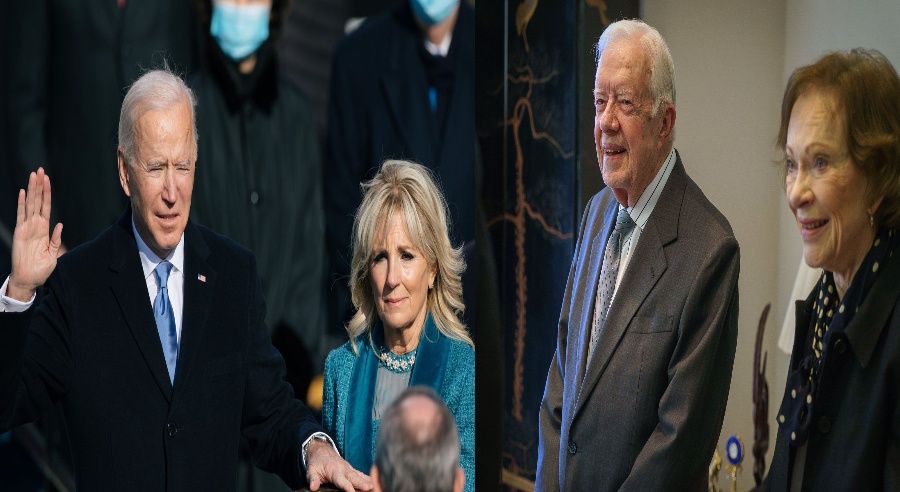 On Tuesday, the White House announced that President Joe Biden and First Lady Jill Biden will visit former President Jimmy Carter and his wife Rosalynn Carter on Thursday, when they are scheduled to visit Georgia. They will be participating in a drive-in rally in Atlanta, to commemorate President Biden's 100 days in office. Now, they have added a visit to Plains, Georgia where the Carters have their home.
Former President Jimmy Carter had congratulated Biden on winning the presidential election but expressed regret that he couldn't attend the swearing-in ceremony due to fear of COVID-19 infections. Currently all four of them are vaccinated. Biden and Carter will also meet after the death of Walter Mondale, who was Vice President during Carter's presidency and also was a personal friend of Biden.
The 96- year old President is the oldest living president of the nation. He endorsed President Biden in a voice over campaign. He has championed the cause of COVID-19 vaccinations, with public service messages in the past on television along with other former president's including George W Bush, Bill Clinton and Barack Obama. The vaccine drive has been President Biden's biggest achievements and has even got him rarely obtained acknowledgement from some Republicans.
On April 19, Walter Mondale died at the age of 93. Carter had released a statement praising his tenure. Biden also said that Mondale was his role model. Considering the fact that Biden was also a vice president earlier, perhaps Carter and Biden will meet to exchange memories as well. He was a much revered figure and changed the role of the vice presidency for the betterment of the country.
The White House has not revealed a reason for the visit. However, a meeting between the Biden's and the Carters has been scheduled along with one of the last few drive-in rallies to be held by President Biden. Unlike former president Donald Trump who encouraged thousands of supporters during his rallies despite the pandemic, President Biden and the Democrats have enforced social distancing in all their rallies.