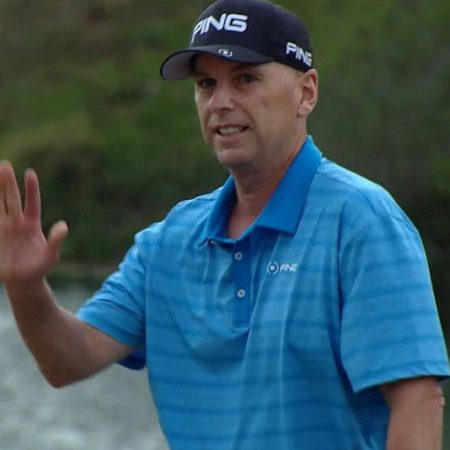 Kevin Sutherland won the Charles Schwab Cup Championship today in an exciting ninth playoff hole. He won against Paul Broadhurst at the Phoenix Country Club. Incidentally, his last three PGA Tour Champions wins have come in extra time.
 "I love this place," said Sutherland, referring to the host venue. "It's kind of reminds me of a golf course I play in Sacramento a little bit. It's kind of this perfect square golf course, kind of in the middle of town and it has a lot of similarities. It kind of feels a little bit like home. And I have played well here, so it makes you feel even better."
The 54-hole event ended it up going to 63 holes, including 24 on Sunday. This is the second time that the last event in PGA Tour Champions season went to a playoff. Neither golfer could get the upper hand on Sunday. On Monday Sutherland made his putt for birdie, ending the tournament and pocketing the first place prize of $375,000.
 "I'm getting kind of used to these extra long playoff rounds that finish on Monday, but it feels good, he said.
 Paul Broadhurst will return shortly to England though he has mixed emotions about his game. He said, "We go straight back into lockdown. I know the golf courses are closed until early December as well. Put the clubs away for a month now and look forward to Christmas."
 Source Golf Week USA Today
Brown's Conduct COVID-19 Contact Tracing & Place Baker Mayfield On Reserve List