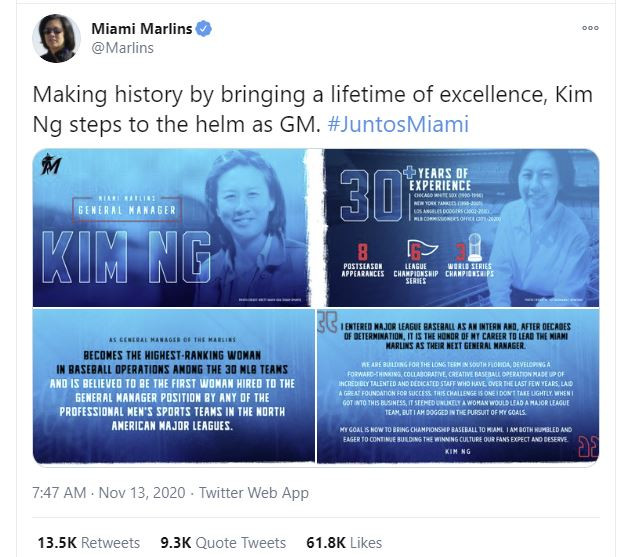 Photo Source: Twitter
 The year 2020 will go down in history for its pluses and minuses. Early this year the coronavirus swept across the world leaving a trail of destruction which has not as yet abated. But there has been good news as well, when two American women shattered glass ceilings with their achievements. Earlier this month Kamala Harris became the first female Vice President of the United States of America and mid-November Kim Ng became the first female general manager of the Miami Marlins. Friday the 13th proved lucky for Kim as she is now the first woman told hold such a high position in Major League Baseball.
 Kim began her career by interning in 1990 with the Chicago White Sox. She worked in the American League Office, with the New York Yankees and the Los Angeles Dodgers before becoming the GM of the Miami Marlins.
 "Kim's appointment makes history in all of professional sports and sets a significant example for the millions of women and girls who love baseball and softball. Commissioner of Baseball, Robert Manfred, said in a statement. "The hard work, leadership and record of achievement throughout her long career in the National Pastime led to this outcome, and we wish Kim all the best as she begins her career with the Marlins."
 Kim will work with team Marlins for a better Season 2021. In 2020 they went 31-29.
 "It is the honor of my career to lead the Miami Marlins as their next general manager," she said in a statement. "We are building for the long term in South Florida, developing a forward thinking, collaborative, creative baseball operation made up of incredibly talented and dedicated staff, who have, over the last few years, laid a great foundation for success."
 Source NPR