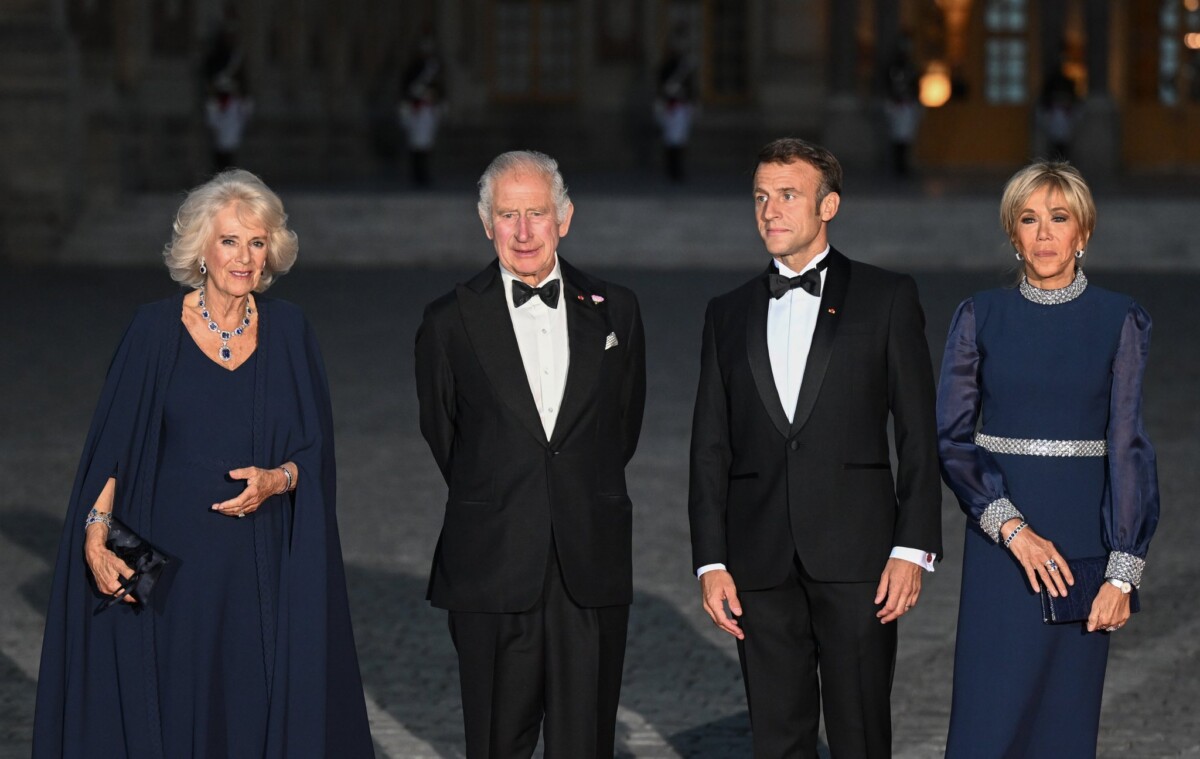 King Charles III and Queen Camilla have completed a historic three-day visit to France. The trip which was scheduled to be the first overseas visit of the British monarch had been postponed due to unrest in France and the royal couple had proceeded to Germany. Now, King Charles and Queen Camilla's visit to France has been completed and is considered to be a resounding success.

Day Three
On the final day of their historic visit to France King Charles and Queen Camilla visited Bordeaux. They received a warm welcome from web fans who were outside the Town Hall. The French city of Bordeaux and the English city of Bristol have historic ties and have twinned.
While in Bordeaux, the royal couple also went aboard an historic frigate called H.M.S. IRON DUKE. They also attended a festival style event at Place de la Bourse. The event featured the best of food and drink, innovative technology, sports as well as sustainability from Britain, France and Bordeaux. They paid a visit to Chateau Smith Haut Lafitte vineyards in the famous Bordeaux wine producing region to learn about sustainable practices of production.

King Charles also visited the Experimental Forest as he has a deep interest in sustainability and innovation while Queen Camilla visited La Pain de l'Amitié, a local charity in Bordeaux.
Day Two
Day Two of King Charles III visit to France was a historic day for the U.K. as he became the first British monarch to address French parliamentarians from the Senate Chamber. His address was well received and he mentioned the friendship between the U.K. and France. He paid tribute to Queen Elizabeth II. She spoke at the Salle des Conferences in 2004.

Queen Camilla launched a new U.K.-France literary prize called The Entente Littéraire Prize at a reception at the Bibliothèque Nationale de France (BNF).

In the afternoon, the royal couple visited Saint-Denis, which is the home of the World Rugby Cup. They also visited Le 19M campus that teaches traditional textile manufacturing skills and more.
Later they visited a flower market that has been named after Queen Elizabeth II after her visit to this market in central Paris. The Queen paid a visit in 2014. They also visited the Notre Dame Cathedral and met the firefighters who helped halt the fire and craftspeople who were helping to restore the grand and historic cathedral.

Day One
King Charles and Queen Camilla were officially received by the French government commencing with a ceremony at the historic Arc de Triomphe. There was a flypast by the Red Arrows and their French counterparts over the iconic symbol that binds the U.K. and France. Both King Charles and President Emmanuel Macron laid a wreath at the Eternal Flame.

The king and the president discussed bilateral issues at Elysée Palace, which is the official residence of President Macron and Madam Macron. King Charles also had a walkabout and met web fans who had gathered to welcome him to France.

Later in the evening King Charles and Queen Camilla were the guests of honor at a state banquet that took place at the Palace of Versailles. The King's speech which was mainly in French was well appreciated by all the celebrity guests and dignitaries present at the historic palace.

Celebrity WEB Update— Premier Jewelry designer and manufacturer fashion house ParisJewelry.com has started manufacturing a new custom line of celebrity jewelry designs with 30% Off and Free Shipping. Replenish Your Body- Refilter Your Health with OrganicGreek.com Vitamin Bottles, Vitamins and Herbs. Become a  WebFans  Creator and Influencer.