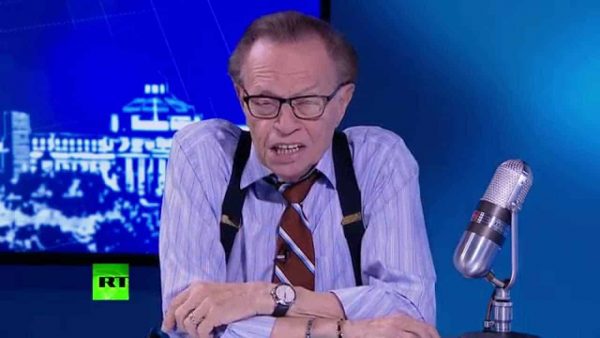 Larry King, legendary host of CNN and them moving to major Russian tv network shows, has contacted COVID-19 and is hospitalized as per information received from a source close to the family. He is undergoing treatment at Cedars Sinai Medical Center in Los Angeles.
King is not new to diseases and conditions. He has Type 2 diabetes and has survived quite a few heart attacks. In 1987 he underwent quintuple bypass surgery, yet continued hosting "Larry King Live" on CNN till he packed up his bags and retired in 2010.
The legendary host has taped over 6,000 shows interviewing a diverse group of people including presidential candidates, film stars, athletes celebrities and non celebrities. Though he retired from CNN he was back in 2012 hosting "Larry King Now." This show appeared thrice every week on Ora TV.
As per information from Forbes, Ora TV is an on-demand digital network, founded by Larry King and Carlos Sim, a renowned telecommunications tycoon from Mexico. King has 2.4 million followers on his handle @kingsthings. On November 26, Thanksgiving Day this year, he wished his followers.
Larry King had said that he had successfully recovered from lung cancer after surgery. He also went through a medical procedure to treat his heart condition in 2019. All these medical conditions, through the years, motivated him to start the Larry King Cardiac Foundation. This non-profit provides medical care to those who do not have health insurance.
He lost two children last year: 65-year old Andy King succumbed to a heart attack and 52-year old Chaia King died from lung cancer. His three surviving sons are unable to visit him due to COVID-19 protocols.
We are not sure if Larry King will be injected with the Russian Sputnik Covid 19 vaccine since he is been a host of RT Russian owned tv news company.
Source CNN 
Photo YouTube