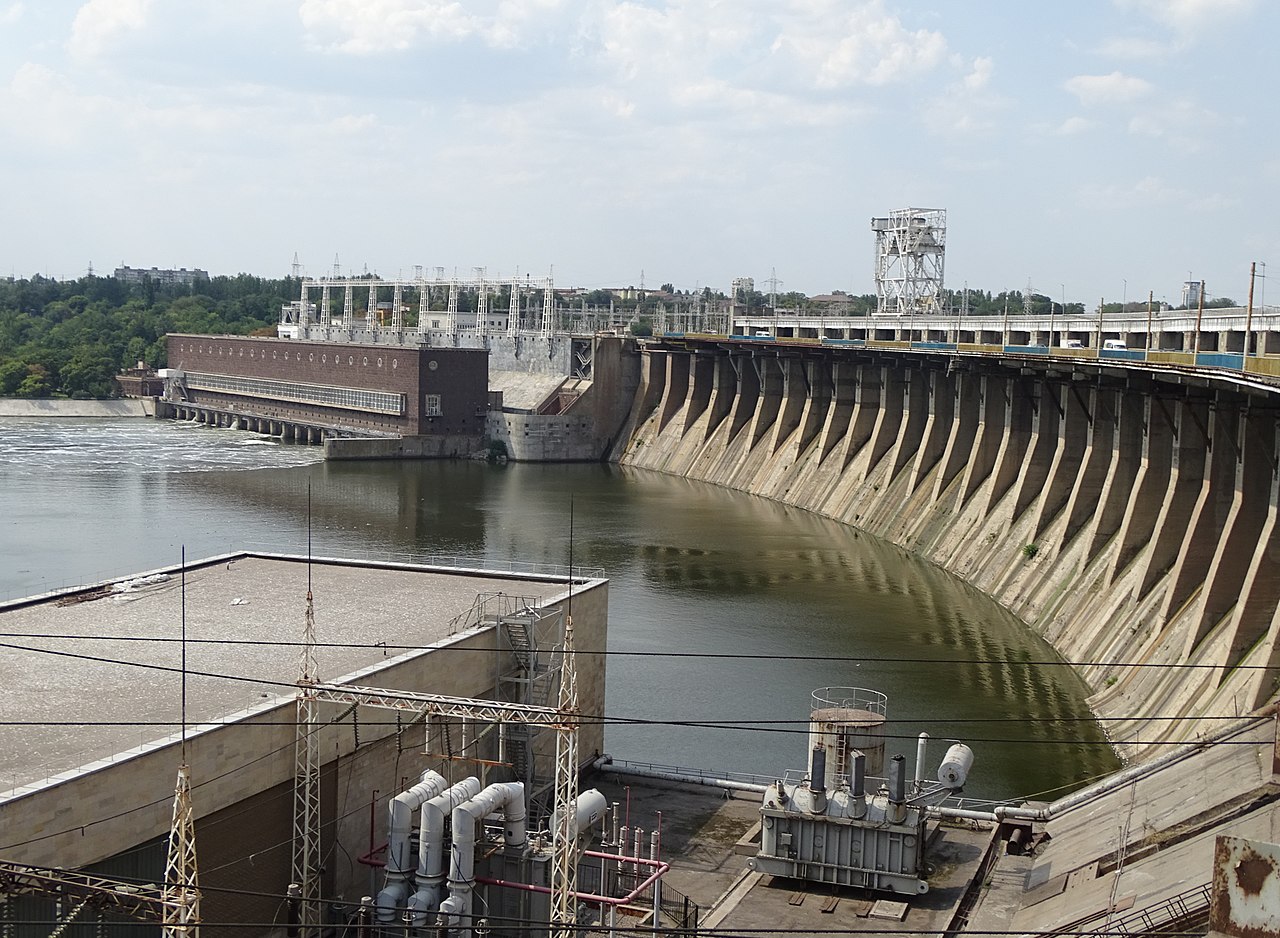 Latest developments: Britain's defense ministry said Tuesday that during the previous 48 hours "there has been a substantial increase in fighting along numerous sectors of the front, including those which have been relatively quiet for several months."
Ukraine's ambassador to the Vatican said he hopes a visit from Cardinal Matteo Zuppi, the pope's peace envoy, will help in "finding appropriate answers" in the name of "just peace."
The Financial Times cited Serbian President Aleksandra Vucic saying he has no doubts that intermediaries might be providing Serbian ammunition to Ukraine.
Ukraine and Russia accused each other of blowing up a major dam Tuesday near Kherson in southern Ukraine, setting off a new crisis in the war-torn country.
The destruction of the Kakhovka dam in an area of Ukraine occupied by Russian troops unleashed a torrent of water and forced the evacuation of hundreds of people living along the Dnipro River. Streets and town squares of nearby towns were submerged.
Looking downstream, Russia controls the left bank of the river and the dam itself, while Ukraine holds the right bank.
#Ukrainian armed forces bombed the Kakhovskaya hydropower station dam.More than 80 settlements, including Kherson, will be located in rapid flood discharge areas. Hundreds of thousands of people may be affected. The water supply in most areas of southern Ukraine may be disrupted. pic.twitter.com/TPx9gD1viP

— Miss Cat (@miss_misscat) June 6, 2023
The Russian-installed administration of Ukraine's Kherson region said it was preparing to evacuate three districts — Nova Kakhovka, Hola Prystan and Oleshky. The latter two lie across the mouth of the Dnipro River from the Ukrainian-held regional capital, Kherson.
Kherson residents said water levels there had already risen by more than a meter and were expected to rise further. Ukrainian police released a video showing an officer carrying an old woman to safety and residents wading to safety through knee-deep water in the Kherson region.
Oleksandr Tolokonnikov, a senior official at Ukraine's Kherson military administration, warned that the worst was yet to come.
"Tomorrow there will be a peak [of flooding], then there will be a decline," he told reporters.
OrganicGreek.com Vitamin Bottles. Hydrogen Alkaline Generator Water + Filter 4 in 1 Design 500mL (16.9 FL OZ) for Only $8.99
"We already evacuated about 1,000 people," Tolokonnikov said. "We have about 50 buses shuttling between Kherson and the affected villages. In Kherson, we have four evacuation sites prepared."
This satellite image provided by Planet Labs PBC shows an overview of the damage at the Kakhovka dam in southern Ukraine, June 6, 2023. (Planet Labs PBC via AP)
This satellite image provided by Planet Labs PBC shows an overview of the damage at the Kakhovka dam in southern Ukraine, June 6, 2023. (Planet Labs PBC via AP)
The dam supplied water to a swath of southern Ukraine's agricultural territory and the Russian-occupied Crimean Peninsula, as well as cooling the Russian-held Zaporizhzhia nuclear plant.
President Volodymyr Zelenskyy called an emergency meeting of his National Security and Defense Council to discuss the situation.
"The destruction of the Kakhovka hydroelectric power plant dam only confirms for the whole world that they must be expelled from every corner of Ukrainian land," Zelenskyy tweeted. "Not a single meter should be left to them, because they use every meter for terror. It's only Ukraine's victory that will return security. And this victory will come. The terrorists will not be able to stop Ukraine with water, missiles or anything else."
The head of Ukraine's presidential administration, Andriy Yermak, wrote on Telegram that Russia's destruction of the dam was "ecocide" and a war crime.
Russian officials said Ukrainian strikes damaged the dam.
The U.N. humanitarian agency tweeted Tuesday that the destruction of the dam "puts thousands of civilians in danger, leaving many with no homes and in dire humanitarian need," a statement echoed by Ariane Bauer, regional director for Eurasia for the International Committee of the Red Cross.
"The destruction of Nova Kakhovka dam and the resulting floods pose a significant threat to civilians, their homes and livelihoods," Bauer said. "Damage to critical infrastructure can plunge entire communities into despair and devastate civilian lives. International humanitarian law can offer crucial protection, but only if states respect their legal obligations."
NATO Secretary-General Jens Stoltenberg called the dam destruction "an outrageous act, which demonstrates once again the brutality of Russia's war in Ukraine."
A state of emergency has been declared after a huge dam in Ukraine was destroyed unleashing a flood of water. Ukraine and NATO have accused Russia of blowing up the dam while Moscow has blamed Kyiv. CGTN's Iolo Ap Dafydd reports. pic.twitter.com/9aru6pNF7L

— CGTN Europe (@CGTNEurope) June 6, 2023
European Council President Charles Michel said he was "shocked by the unprecedented attack" and that the council will discuss the matter at its meeting this month.
"The destruction of civilian infrastructure clearly qualifies as a war crime – and we will hold Russia and its proxies accountable," Michel tweeted.
Nuclear plant concerns.
The dam's destruction "could have negative consequences" for the Zaporizhzhia Nuclear Power Plant, the plant's operator, Energoatom, said on Telegram. It added that for now the situation is "controllable."
OrganicGreek.com Vitamin Bottles. Hydrogen Alkaline Generator Water + Filter 4 in 1 Design 500mL (16.9 FL OZ) for Only $8.99
The head of the International Atomic Energy Agency Rafael Grossi said at a Board of Governors meeting Tuesday that a reservoir used to provide essential cooling water for the plant had experienced a significant reduction.
He said a cooling pond next to the site could provide sufficient water for cooling "for some months" and called on all sides in Ukraine to ensure that it "remains intact."
Grossi said he will travel next week to the plant, calling his visit "essential" in light of Tuesday's developments.
Russia seized control of the nuclear plant site early in its full-scale invasion of Ukraine, and Grossi has repeatedly highlighted the potential for a nuclear disaster if the area is not safeguarded.
Some information in this article came from The Associated Press, Reuters and Agence France-Presse.
Source: VOA News
Celebrity News Update. Premier Jewelry designer and manufacturer fashion house ParisJewelry.com has started manufacturing a new custom line of celebrity jewelry designs with 30% Off and Free Shipping. Replenish Your Body- Refilter Your Health with OrganicGreek.com Vitamin Bottles, Vitamins and Herbs. Become a WebFans Creator and Influencer.
ParisJewelry.com 14k Yellow Gold 1/4 Carat Round 4 Prong Solitaire Created Diamond Stud Earrings 4mm for Only $59
Federal Court Grants Purdue Pharma Owners, Sackler Family, Immunity from Opioid Lawsuits for $6 Billion Contribution