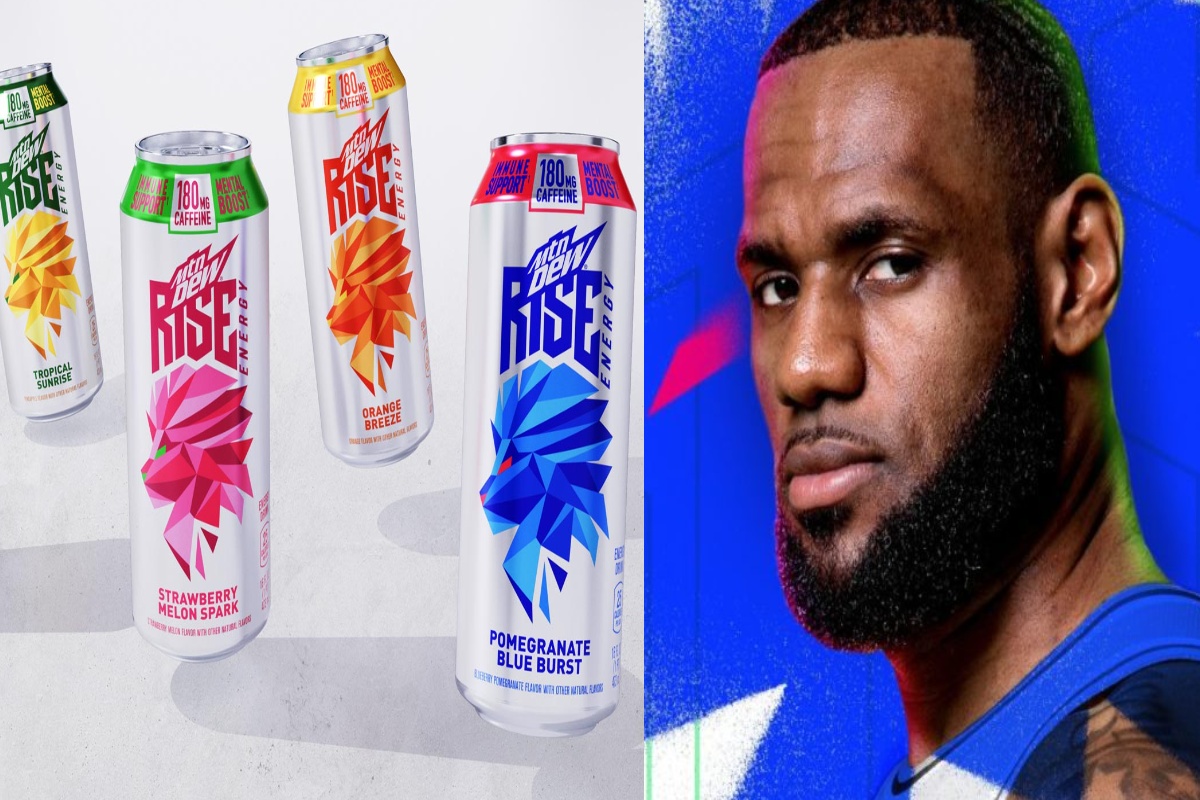 On Thursday, LeBron James appeared in a new commercial for Mtn Dew Rise. This new energy drink from Pepsi, is the first one with the four-time NBA champion. He had recently parted from Coca Cola after, a long stint of 17 years, with them. Pepsi grabbed the star to sell their new energy drink, in a saturated market, hoping to cash on his popularity to promote the beverage. The advertisement will be on air throughout the playoffs of the National Basketball Association.
The ad, by the highly marketable athlete, ponders about his life if he stopped "rising above" each day and instead coasted along the day. He ends the ad by saying, "Nah, I chose to rise."
The 36-year-old star athlete told CNBC that he was excited about his partnership with Pepsi and that he hoped to promote the energy drink in a crowded beverage space.
He said that that the concept behind the energy drink — to "rise above self-doubt and to rise above the  occasion" were the factors that made him gravitate towards Mtn Dew Rise. He was signed by the food and beverage giant for an undisclosed amount, despite several agencies trying to elicit a figure from both parties and that could have also exerted a strong pull.
LeBron James leads from the front in various philanthropic efforts and works for social justice. He also plays basketball and looks after a huge business empire, besides his several ad campaigns, the latest one being the Pepsi Mtn Dew Rise one and other commercial deals. Perhaps, he needs the additional energy from the drink he advertises as he looks after his varied interests in media, sports and entertainment.
Energy drinks have a huge market and Euromonitor said that they generated $14.15 billion in sales. Pepsi is looking to make a dent into these figures by roping in super star, LeBron James. It is offering Mtn Dew Rise in 6 fruity flavors. Each drink contains caffeine equivalent to approximately two cups of coffee as well as vitamins.

Read Full Pepsi Stock Research
PepsiCo, Inc. operates as a food and beverage company worldwide. The company operates through seven segments: FLNA, QFNA, PBNA, LatAm, Europe, AMESA, and APAC. It offers branded dips, cheese-flavored snacks, and tortillas, as well as corn, potato, and tortilla chips; cereals, rice, pasta, mixes and syrups, granola bars, grits, oat squares, oatmeal, rice cakes, simply granola, and side dishes; beverage concentrates, fountain syrups, and finished goods; ready-to-drink tea, coffee, and juices; and dairy products. The company provides its products primarily under the Cheetos, Doritos, Fritos, Lay's, Ruffles, Tostitos, Aunt Jemima, Cap'n crunch, Life, Pasta Roni, Quaker Chewy, Quaker, Rice-A-Roni, Aquafina, Diet Mountain Dew, Diet Pepsi, Gatorade, Mountain Dew, Pepsi, Propel, Sierra Mist, Tropicana, Emperador, Marias Gamesa, Rosquinhas Mabel, Sabritas, Saladitas, 7UP, Gatorade, H2oh!, Manzanita Sol, Mirinda, Pepsi, Pepsi Black, San Carlos, Toddy, Agusha, Chudo, and Domik v Derevne brands. It serves wholesale and other distributors, foodservice customers, grocery stores, drug stores, convenience stores, discount/dollar stores, mass merchandisers, membership stores, hard discounters, e-commerce retailers and authorized independent bottlers, and others through a network of direct-store-delivery, customer warehouse, and distributor networks, as well as directly to consumers through e-commerce platforms and retailers. The company was founded in 1898 and is headquartered in Purchase, New York.