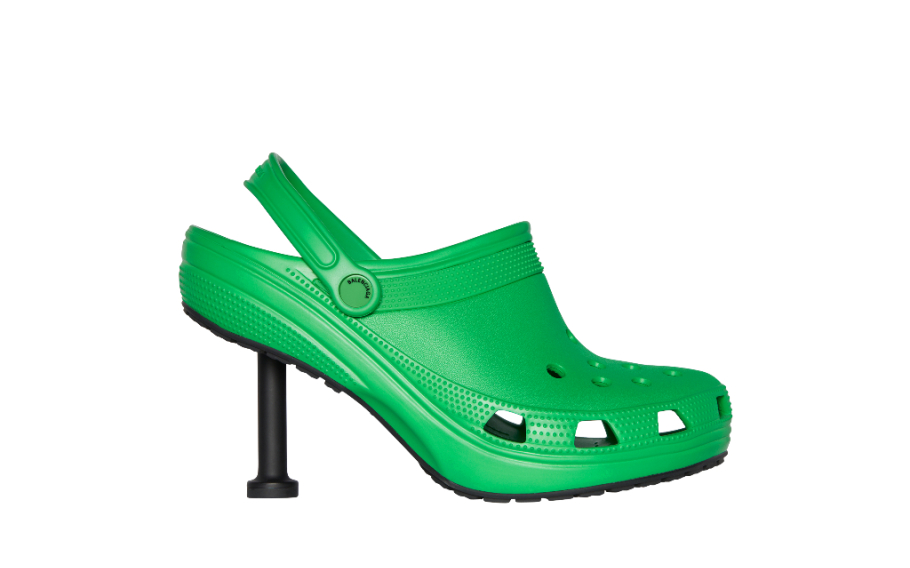 Crocs, the funky shoe with a large base of loyal fan has a new collaboration with Luxury Brand Balenciaga.
The shoe is designed by Demna Gvasalia for Balenciaga's spring 2022 collection.
The cost of the bright lime green stiletto Crocs has not yet been reported. They may sell for over $1,000- maybe more. It is a sure bet to be a popular shoe. This is not the first time that Balenciaga and the Crocs have designed a shoe. The first platform shoe they developed together cost $850 and was a complete sellout as soon as it hit the market.
The brand has expanded a long way since its beginnings with colorful prints and colors for their popular shoes.
Crocs produces lots of designs with celebrity collaborations. Notably the show from Justin Beiber. It was  the second drop with Justin Bieber and drew house was the first of its kind. Each pair of charmed-out clogs came with tall white socks to complete the cozy vibe. Reported on Crocs news website.
Over 600 million  pairs of shoes sold around the world since Crocs opened their  doors in 2002
$ 1 billion on annual sales making Crocs one of the world's 10 largest non-athletic footwear brands.
In other news about the company, Crocs, Inc. (NASDAQ: CROX), a global leader in innovative casual footwear for women, men, and children, announced that it has filed a complaint with the United States International Trade Commission (ITC) seeking an investigation of unlawfully imported shoes into the United States in violation of its registered trademarks.
This complaint follows a 2006 request filed by Crocs with the ITC relating to its design and utility patent rights for the Crocs Classic Clog. This initial action resulted in the ITC issuing a general exclusion order barring the importation of product infringing its patent rights – the same relief that Crocs seeks in its current action with respect to its trademarks.
Crocs gives back to the community- Between  May 10-May 14, the brand gave away 10,000 pairs of Crocs at Work™ shoes per day to frontline healthcare workers who continue to provide comfort in our communities.
Photo Credit-Balenciaga x Crocs 80MM Mule. COURTESY OF BALENCIAGA