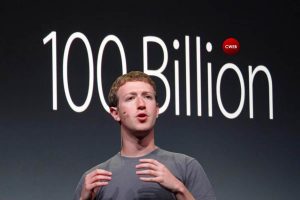 Mark Zuckerberg Now Worth $100 Billion .Only Jeff Bezos of Amazon and Bill Gates of Microsoft have passed the net worth of 100 billion.
Mark Zuckerberg enrolled at Harvard University in 2002. On February 4, 2004, he launched thefacebook.com and later names it Facebook in 2005,Facebook became a directory where  fellow Harvard students uploaded their personal  information and photos into a template that he had devised. This information publicized  to each individual's network of friends and  to friends of friend, in what Zuckerberg called the "social graph." In May 2005 Facebook received its first major investment of venture capital  of $12.7 million.
Zuckerberg turned down a $1 billion buyout offer from Yahoo!, and later in 2007 Facebook Microsoft paid $240 million for a 1.6 percent stake in Facebook. Two years later Digital Sky Technologies purchased a 1.96 percent share for $200 million. After Facebook, Inc. (FB) Nasdaq GS  initial public offering (IPO) in 2012, Zuckerberg's net worth was estimated at more than $19 billion.
Facebook both ad revenues and subscribers came in ahead of expectations.
Revenues overall rose nearly 11%, to $18.69B; ad revenues rose 10% to $18.32B.
Operating income jumped 29% to $5.96B, with margin of 32%.
And amid a sharply lower effective tax rate (16% vs. 46%), net income nearly doubled, to $5.18B.
Daily active users were 1.79B (up 12%), topping expectations for 1.74B, and monthly active users also rose 12%, to 2.7B. Source:CWEB