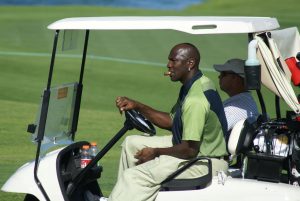 NBA legend Michael Jordan and his company donate $1 million each to the NAACP Legal Defense and Educational Fund, Inc. (LDF) and the Formerly Incarcerated & Convicted People and Families Movement (FICPFM), and $500,000 to Black Voters Matter.
Michael Jordan and his company have pledged to donate $100 million  over the next decade to organizations supporting the fight for racial equality and social justice.
Nike, the parent company of Jordan Brands is donating $40 million over the next four years to support the Black community in the U.S.
In a statement, the Michael Jordan Brand said: "Black lives matter. This isn't a controversial statement. Until the ingrained racism that allows our country's institutions to fail is completely eradicated, we will remain committed to protecting and improving the lives of Black people. "Today, we are announcing that Michael Jordan and the Jordan Brand will be donating 100 million over the next 10 years to organizations dedicated to ensuring racial equality, social justice and greater access to education.
NFL Football Commissioner Roger Goodell  said in a  Twitter statement "We, the National Football League, condemn racism and the systematic oppression of black people. "We, the National Football League, admit we were wrong for not listening to NFL players earlier and encourage all to speak out and peacefully protest. "We, the National Football League, believe Black Lives Matter. I personally protest with you and want to be part of the much-needed change in this country. "Without black players, there would be no National Football League. And the protests around the country are emblematic of the centuries of silence, inequality and oppression of black players, coaches, fans, and staff. We are listening. I am listening, and I will be reaching out to players who have raised their voices and others on how we can improve and go forward for a better and more united NFL family."
NBA's greatest all-time player, Michael Jordan won six titles with the Chicago Bulls. Jordan sold his minority stake in the Hornets in September 2019 valuing the team at $1.5 billion.
Jordan is one of the most marketed sports figures in history. He has been a major spokesman for such brands as Nike, Coca-Cola, Chevrolet, Gatorade, McDonald's, Ball Park Franks, Rayovac, Wheaties, Hanes, and MCI. Jordan has had a long relationship with Gatorade. Source: Wikipedia
In June 2010, Jordan was ranked by Forbes magazine as the 20th-most powerful celebrity in the world with $55 million earned between June 2009 and June 2010. According to the Forbes article, Jordan Brand generates $1 billion in sales for Nike.
Source: Wikipedia
By photo taken by flickr user shgmom56 – flickr, CC BY-SA 2.0, Link