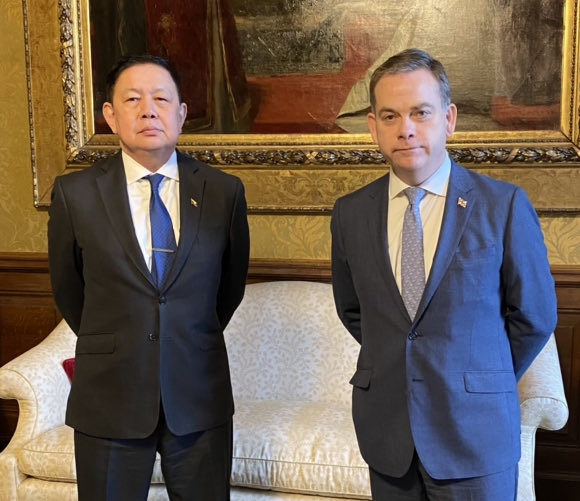 On Wednesday, Myanmar's military locked out their ambassador from their embassy in the U.K. Ambassador Kyaw Zwar Minn had been a vocal critic of the military coup that recently took place in his home country. He had asked for elected leader Aung San Suu Kyi's release in a statement on March 8.
On February 1, the Myanmar military seized power in the country and detained the elected leader Suu Kyi. She is facing various charges, despite her party winning a landslide election. The military claimed that there were irregularities and took over the rule of the country.
In February, Myanmar's ambassador to the United Nations was fired and now the Ambassador to the U.K. has been recalled.
On Wednesday, Myanmar's ( now former) ambassador stood by the curb, waiting in his car in Mayfair outside the embassy. He had been denied entrance by his deputy as he had gone against the military junta.
He told Reuters that it was a kind of a coup in the middle of London. He said, "You can see that they occupy my building."
British police have also been stationed outside the embassy which is in a tony borough of London. Protesters have been gathering outside near the embassy as they condemn the coup by the military junta.
On Thursday, Dominic Rabb, Britain's foreign minister tweeted that they condemn the bullying actions of the Myanmar military regime in London on Wednesday and that they pay tribute to Kyaw Zwar Minn for his courage.
Today I met #Myanmar Ambassador Kyaw Zwar Minn.
I pay tribute to his courage and patriotism.
We will support him to ensure his safety and security in the United Kingdom 🇬🇧 pic.twitter.com/D4C988UM9n

— Nigel Adams (@nadams) April 8, 2021
He also said that the U.K. continued to call for an end to the coup and the appalling violence and asked for a swift restoration of democracy in Myanmar.
The junta has been violently cracking down on protesters. During the weekend it added more arrest warrants to the already large numbers through the weeks. More than 60 celebrities including social media influencers, musicians and other have been charged with incitement.
As the protests continue, life may hang in a balance for ambassadors, celebrities, the Myanmarese youth and public who continue to protest against the military coup.