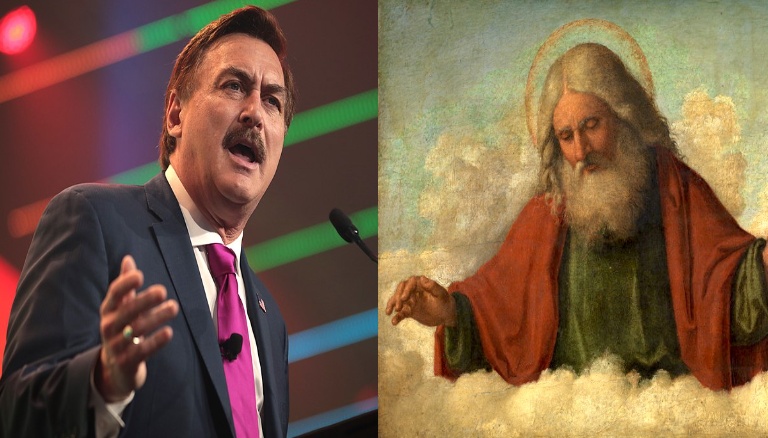 On Thursday, Mike Lindell, the CEO of MyPillow said that Trump was "chosen by God" to run against Hillary Clinton in 2016 and win the presidential elections. Speaking at a Conservative Political Action Conference (CPAC), the Trump loyalist also called him the greatest president in history. He also said that a miracle happened on November 8, 2016.
Right Wing Watch posted the speech on Twitter. Lindell continued in the same vein praising the former president and said that God answered their prayers and gave them grace and a second chance to get the nation back on track to its conservative values.
The Washington Post reported that he also spoke of his first meeting with Donald Trump in the summer of 2015. He said that he saw Trump coming down an escalator and announcing that he would be running for president. He said that it was a divine and miraculous moment for him, and he felt that something miraculous was about to unfold.
Of course, he was greeted with cheers and applause unlike Mike Pence, who was booed, heckled, and called a traitor by Trump supporters for completing his constitutionally bound duty.  As Vice President, Pence had declared the electoral college votes in favor of Joe Biden, despite being asked by Trump to overturn the results. He had also been singled out by the pro-Trump protesters who had stormed the Capitol on January 6 and had said that they wanted to hang him.
Mike Lindell is the CEO of MyPillow. He founded the company after recovering from an addiction to cocaine and alcohol. In interviews he has said that he hired employees who were addicts in the past as he himself is a recovering addict.
However, he is also a great believer in conspiracy theories and has spread unfounded information about the November 2020 elections. He has been sued by companies who make voting machines including Dominion and Smartmatic as he said that they flipped the vote in favor of Biden and against Trump.
The Trump loyalist also made a two-hour long documentary called "Absolute Proof" where he peddles his conspiracy theory and unfounded information on election fraud. Mike Lindell, the CEO of MyPillow won a couple of Raspberry Awards for this film.
Photo-