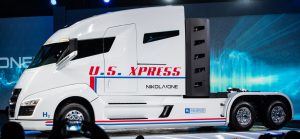 JP Morgan analyst Paul Coster has upgraded NASDAQ: NKLA stock too overweight. He formerly had a neutral rating on the stock. The stock has risen 26% above the firm's price target of $45 per share. Paul Coster recommends this stock could be an attractive addition for a long-term position within an investor's portfolio. On July 8th   200 the stock closed at $54.03 NASDAQ: NKLA.
Cowen & Company initiated coverage of the stock with an overweight rating and a price target of $79.
"We believe that Nikola is well-positioned to address the growing need for low emissions and zero-emission vehicles in the Class 8 trucking market," analyst Jeffrey Osborne said in a note to clients. "The company's focus on battery and hydrogen technology and use of strategic partners particularly for vehicle manufacturing should allow for a fairly smooth production ramp, in our view."  Longer term, Osborne added, "we see the company evolving into a more broad-based energy technology company as hydrogen fueling infrastructure is slowly built out." Source: The Street.com
Nikola Motor Company NASDAQ: NKLA  is a pioneer in electric heavy-duty applications. Nikola offers both pure electric and also hydrogen electric powertrains to cover class 8 in transportation. The company is taking pre-orders on its vehicles and does not have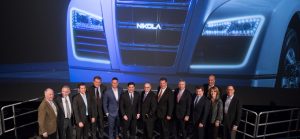 "The technology on the Badger is next to none; it has one of the most advanced powertrains and infotainment systems on the market. The features include over-the-air updates, keyless entry, independent torque control of every wheel, 906 HP, 980 ft. lbs. of torque, 15 kilowatt power export with 220V and 110V, tie-down tracks inside the truck for cargo, hidden refrigerator, up to 600 miles of range, and waterproof displays. You couldn't dream of building a better pickup truck than the Badger and we offer it in both fuel-cell and battery-electric options," said Founder and Executive Chairman Trevor Milton. "At Nikola World 2020, our followers will have the chance to see the Badger in action, so you don't want to miss this show." Source
Trevor Milton is an American billionaire businessman, Executive Chairman and Founder of Nikola Motor Company. Trevor Milton is worth $1.1 billion today. Milton started an eCommerce company called Upillar, allowing users to checkout only once with items from multiple vendors. With super-fast growth Milton saw the company go from inception to over 80 million online visitors per month.
The company has a Market Cap 19.5B.
Nikola competes with companies like Tesla.Tesla Is Now Worth More Than Toyota, Disney, and Coke, making Tesla(TSLA) the most valuable auto company on the planet, ahead of Toyota (TM). Tesla now surpasses   the market   of Dow components Merck (MRK) ,   Disney (DIS), Cisco (CSCO),   Coca-Cola (KO), along with   Exxon Mobil (XOM).Tesla (TSLA)now is more valuable than most every company in the S&P 500.
Tesla shares reached new highs Wednesday, July 8, 2020 when they announced the delivery for   90,650 vehicles in the second quarter, beating Wall Street expectations. Shares drove up   to (TSLA) $1365.88.