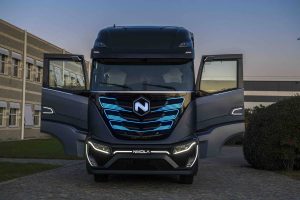 Nikola Corporation (NKLA) Nasdaq is a designer and manufacturer of battery-electric and hydrogen-electric vehicles, electric vehicle drive trains, vehicle components, energy storage systems, and hydrogen station infrastructure.
Trevor Milton Executive Chairman Prior to starting Nikola Motor Company, Trevor was the CEO of dHybrid Systems, LLC a natural gas storage technology company that was acquired by one of America's largest steel providers, Worthington Industries, Inc.[i]
Mark Russell Chief Executive Officer Nikola Corporation served as president and chief operating officer of Worthington Industries (NYSE: WOR) from 2012 to 2018.[ii]
CNBC reports investors see Nikola as the next Ford. The company seeks to compete with Tesla and Ford, in particular the Ford F-150. There could be a good opportunity for Nikola as Tesla relies on expensive batteries and Nikola uses fuel cell technology.  Nikola  made its debut as a publicly traded company June 4th, 2020 after a reverse merger with VectoIQ, led by former Vice Chairman of General Motors Stephen Girsky.
Pre-orders and reservations are being taken for the Badger, which is a hydrogen-electric pickup truck. No factory has been built and no vehicles have gone into production yet. The company  plans to build a factory in Coolidge, Arizona. Investors seem to bank on the future of electric vehicles as the stock made a brief run up past Ford's Motor Company's valuation with its IPO debut surging  140% on its third day of trading.
Barrons reports Nikola Corporation (NKLA) Nasdaq  "Nikola Stock Quickly Became a Short-Selling Magnet. That's a Warning to Bulls and Bears."
The company does not expect to generate revenue until 2021. Tesla and Ford  plan to build electric pickups but time will only tell if there will be the demand for these vehicles.
[i] Source: https://nikolamotor.com/investors/corporate?active=leadership
[ii] Source: https://nikolamotor.com/investors/corporate?active=leadership
CWEB Analysts believe that the stock is fairly valued and should stay at this levels with a pullback between $40 -$50 unless the company starts making positive revenues.
CWEB.com is not registered as an investment adviser with the U.S. Securities and Exchange Commission. Rather, CWEB.com relies upon the "publisher's exclusion" from the definition of investment adviser as provided under Section 202(a)(11) of the Investment Advisers Act of 1940 and corresponding state securities laws.