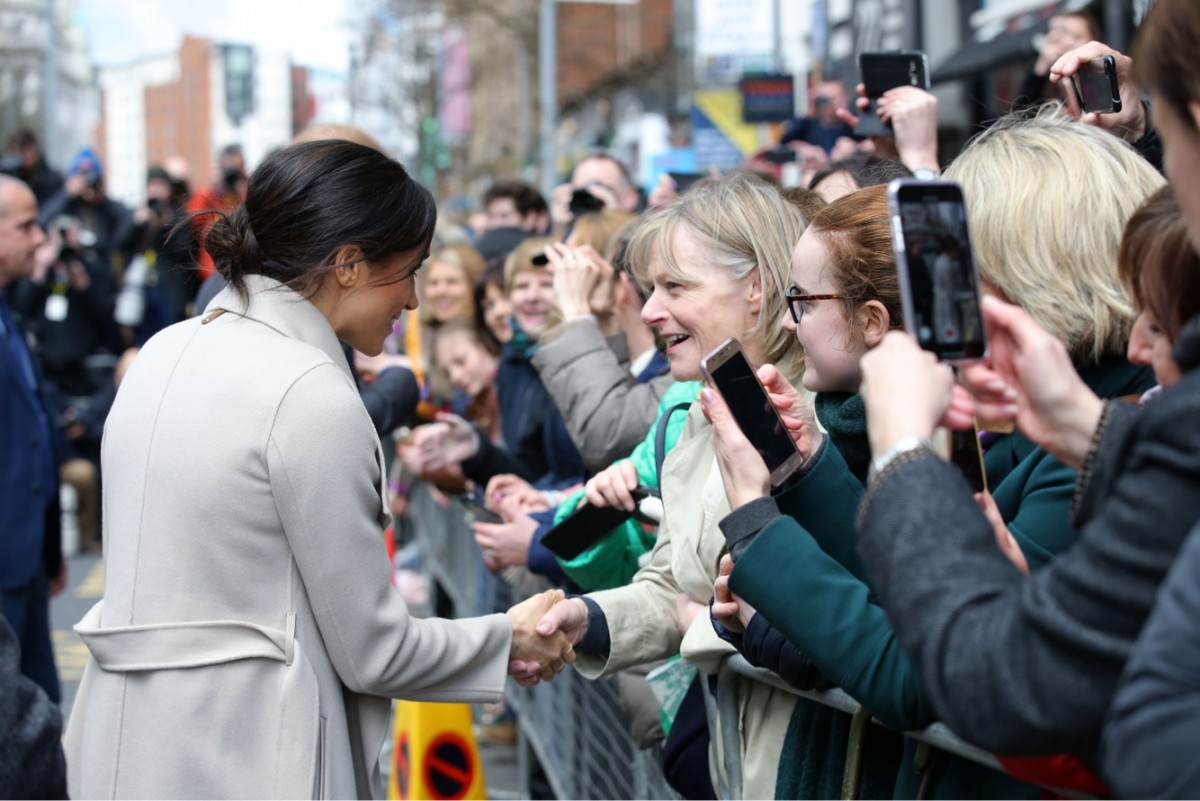 Meghan Markle is receiving loads of encouragement from fans as she is facing some criticism from the British Press mainly the tabloids and one recent morning show host who has quit the show since.
A March 2016 taping of the BUILD series is once again trending. This almost 5-year old interview received renewed interest when a user "Michelle" shared a less than a minute appearance of Markle on the series, on Twitter.
In the clip, Markle tells host Donna Freydkin that she looks at social media as a "great way to connect with people." She calls out to Emily Sorrells a young high school fan of hers, who was a part the audience.
She tells the host that she only knew Emily through Twitter and she knew that she would be a part of the audience as she saw it on social media. Markle adds that Emily was going on a trip to Costa Rica to do some aid work as Markle's "U.N. stuff inspired her."
Markle tell the astounded fan that she wrote her a letter and brought it along to the interview. The then actress holds up a small parcel, walks into the audience and gives the letter to Emily, following which the two of them share an embrace.
In 2015, three years before she married Prince Harry, Markle was the United Nations Women's Advocate for Women's Politics Participation and Leadership. She participated in a learning mission to Rwanda. She met female parliamentarians. A visit to a refugee camp in Gihembe in Rwanda was also a part of her visit.
A video of me meeting Meghan Markle just went viral. Allow me to explain. She is genuinely the most inspiring human I've met. Through her social media & blog she taught me to be a more confident and passionate version of myself. The hate against her is garbage pic.twitter.com/euHjKkxp7D

— emily (@dinosorrells) January 14, 2020
In the same year, she spoke on the importance of gender equality on March 8 for the U.N. and said that she was proud to be "a woman and a feminist." The date is celebrated as International Women's Day.
Emily Sorrell also went on social media and called her the "genuinely the most inspiring human I've met. She slammed those who spoke against Markle.
In this Tale of Two Terms, it is the rest of the family members who could face collateral emotional damage as a lot of dirty linen is being aired in public.
dont forget meghan did this.
this is the kind of person she is pic.twitter.com/Izqgp9Z95T

— michelle (@ddarveyy) January 12, 2020
Prince Harry and Megan Markle have their own terms of living and yet they have so many expectations from the royal family. They made the decision to step back from the royal family and move to America as adults. Yet, it is mentioned that he "only" got his inheritance from his mother, Princess Diana, and the amount is not mentioned. It is also mentioned that their son will not get a royal title, when the couple has stepped away from "royal duties."
The royal family or firm also has its own terms. Royal members of the family get innumerable privileges as they fulfil duties as "working members of the royal family." The palace or the firm withdraws these huge perks that come with the job, if born or married into royalty leave their royal duties and lead independent lives.
Hence this can perhaps be called "A Tale of Two Terms (& conditions) or of may also be considered as a tale of two warring factions in a biological family where both seem to follow the same adage "want to have your cake and eat it."
Image Credit Wiki