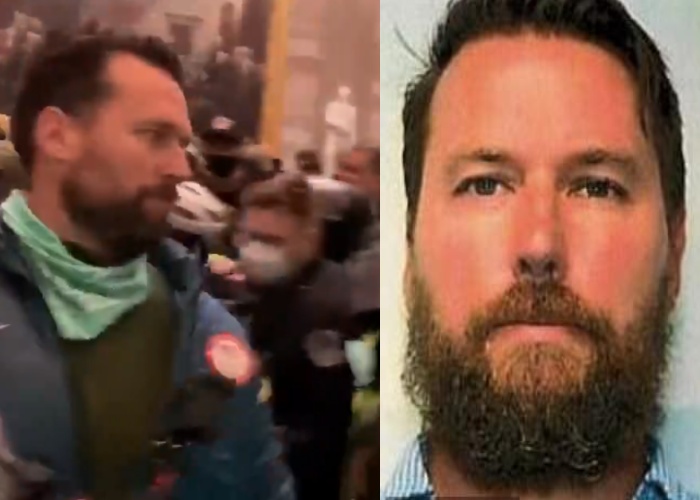 On Thursday, Olympic gold medalist Klete Keller was indicted on seven charges. According to USA Today, he was charged for his alleged involvement in the Capitol riot in the U.S. on January 6.
The U.S. District Court of the District of Columbia has charged him for knowingly and unlawfully entering and remaining in a restricted area, for interfering with official government business, for engaging in disorderly conduct to disrupt a session of Congress and many other charges.
An FBI Agent recognized the 6-foot-6-inches tall swimmer because of his towering height and because he wore a Team USA jacket to the riot. He had also posted several pro-Trump social media posts supporting the former president though they are no longer online.
Nine days after the Capitol riots, after Keller was identified by many including former teammates and coaches as well as anonymously, the Olympian turned himself over to the authorities in Colorado.
He was released on his own recognizance, getting bail without a bond. However, the Washington Post says that he could face a prison term that could be more than 15 years.
He has been identified as an alleged violent protester among the many who stormed the Capitol on January 6. The protesters wanted to overturn the election result but have overturned their lives instead and could face long prison terms. One police officer was killed and about 140 were injured in the violence, while a total of five died.
Klete Keller had an impressive career as a Team U,S. swimmer as well as an individual swimmer. He won the gold medal twice as part of Team U.S. in the 4X200-meter free style relay at the Athens Olympics in 2004 and the Beijing Olympics in 2008 with teammates Michael Phelps and Ryan Lochte.
Individually he won the bronze medal twice for the 400-meter freestyle: once in 2004 in Athens and the second time in the 2000 Sydney Olympics. He was also a part of the silver medal winning 4×200 meter relay team in the Sidney Olympics.
He retired from the sport after 2008 Olympics and worked in a real estate office. He was relieved form his position by the company after the Capitol siege and his online credentials were removed from their website.