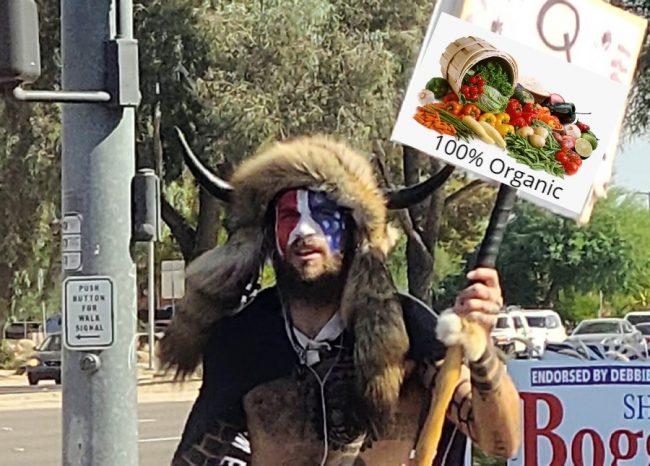 On Wednesday, a federal judge, Judge Royce Lamberth passed an order allowing the Capitol riot accused 'QAnon Shaman' to be given organic food. He has been placed in a DC correctional facility. His lawyer Albert Watkins said that his client required a special diet according to his religious beliefs and for his health.
On a filing on Wednesday the lawyer wrote that his client Jacob Chansley required organic food as his body would summarily reject food which had "unnatural chemicals." He also mentioned that such food would not only cause discomfort but could also possibly debilitate and dehydrate his client. He also mentioned that his client had lost over 20lbs and his health condition was 'declining.'
In his filing, the lawyer said that his client had cooperated with the FBI. He wore the fur and horns as a part of his shamanic belief. He also put the onus on Trump for inciting violence with his rhetoric at a pre-riot rally. He also said that his client loved Trump and "he listens to him."
Watkins had also asked for Chansley to be released before trial as his client did not have a criminal history nor had he been a "part of a grand scheme to overthrow the government."
After the former President Donald Trump had disregarded Chansley's plea for a pardon, his lawyer has spoken up on several issues to many channels. The lawyer had also said that his client was willing to testify at Trump's impeachment trial, if called.
The QAnon Shaman stood out during the riots with his unique attire and was one of the first protesters to be indicted. Federal prosecutors have said that the Phoenix man participated actively in the riots and was a part of the "violent insurrection." This indicates that the charge of sedition or insurrection could be put forth on some of the rioters on January 6.
As of now, Chansley has been charged with violating the Federal Anti-Riot Act, obstructing Congress and a few other charges. His lawyer told Politico that a renewed motion for pretrial release would be filed soon. He has not been released on bail despite earlier attempts though the judge in the case said that he would consider bail for Chansley early next month.