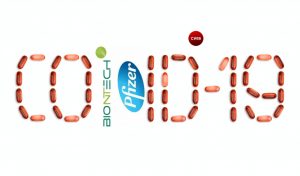 Pfizer Inc. (NYSE: PFE) and BioNTech SE (Nasdaq: BNTX) today announced the execution of an agreement with the U.S. Department of Health and Human Services and the Department of Defense to meet the U.S. government's Operation Warp Speed program goal to begin delivering 300 million doses of a vaccine for COVID-19 in 2021. Under the agreement, the U.S. government will receive 100 million doses of BNT162, the COVID-19 vaccine candidate jointly developed by Pfizer and BioNTech, after Pfizer successfully manufactures and obtains approval or emergency use authorization from U.S. Food and Drug Administration (FDA).
Pfizer And Biontech Announce an Agreement With U.S Government for Up To 600 Million Doses of Biontech Covid Vaccine
Pfizer Inc. (PFE)  NYSE – shares and BioNTech  rose more than 5% in pre-market trading.
Pfizer's Market Cap is 212.628B
Forward Dividend & Yield:1.52 (4.14%)
Ex-Dividend Date: July 30, 2020
The U.S. government will pay the companies $1.95 billion upon the receipt of the first 100 million doses, following FDA authorization or approval. The U.S. government also can acquire up to an additional 500 million doses.
Americans will receive the vaccine for free consistent with U.S. government's commitment for free access for COVID-19 vaccines."We've been committed to making the impossible possible by working tirelessly to develop and produce in record time a safe and effective vaccine to help bring an end to this global health crisis," said Dr. Albert Bourla, Pfizer Chairman and CEO. "We made the early decision to begin clinical work and large-scale manufacturing at our own risk to ensure that product would be available immediately if our clinical trials prove successful and an Emergency Use Authorization is granted. We are honored to be a part of this effort to provide Americans access to protection from this deadly virus."
"Expanding Operation Warp Speed's diverse portfolio by adding a vaccine from Pfizer and BioNTech increases the odds that we will have a safe, effective vaccine as soon as the end of this year," said HHS Secretary Alex Azar. "Depending on success in clinical trials, today's agreement will enable the delivery of approximately 100 million doses of this vaccine to the American people." Source Pfizer
Top Institutional Holders
Holder  Shares  Date Reported  % Out    Value
Vanguard Group, Inc. (The)          461,976,599        Mar 30, 2020      8.32%    15,078,916,191
Blackrock Inc.     424,070,197        Mar 30, 2020      7.63%    13,841,651,230
State Street Corporation               292,621,398        Mar 30, 2020      5.27%    9,551,162,430
Capital World Investors 224,808,113        Mar 30, 2020      4.05%    7,337,736,808
Wellington Management Company, LLP 218,676,145        Mar 30, 2020      3.94%    7,137,589,372
Geode Capital Management, LLC               89,953,885           Mar 30, 2020      1.62%    2,936,094,806
Bank of America Corporation      86,668,244           Mar 30, 2020      1.56%    2,828,851,484
op Mutual Fund Holders
Holder  Shares  Date Reported  % Out    Value
Vanguard Total Stock Market Index Fund              162,364,727        Mar 30, 2020      2.92%    5,299,584,689
Vanguard 500 Index Fund            113,925,168        Mar 30, 2020      2.05%    3,718,517,483
Washington Mutual Investors Fund         67,478,273           Apr 29, 2020       1.21%    2,588,466,552
Vanguard Specialized-Health Care Fund 64,114,628           Apr 29, 2020       1.15%    2,459,437,130
SPDR S&P 500 ETF Trust 59,033,690           May 30, 2020      1.06%    2,254,496,621
American Balanced Fund              53,532,000           Mar 30, 2020      0.96%    1,747,284,480
Income Fund of America Inc        50,240,000           Apr 29, 2020       0.90%    1,927,206,400
ALBERT BOURLA, DVM, PH.D. Chairman and Chief Executive Officer, Pfizer
During his more than 25 years at Pfizer, Albert has built a diverse and successful career, holding a number of senior global positions across a range of markets and disciplines. Prior to taking the reins as CEO in January 2019, Albert served as the Pfizer's Chief Operating Officer (COO) beginning in January 2018, responsible for overseeing the Company's commercial strategy, manufacturing, and global product development functions.
Previously, from February 2016 to December 2017, Albert served as Group President of Pfizer Innovative Health, which comprised the Consumer Healthcare, Inflammation & Immunology, Internal Medicine, Oncology, Rare Disease and Vaccines business groups. In addition, he created the Patient and Health Impact Group, dedicated to developing solutions for increasing patient access, demonstrating the value of Pfizer's medicines, and ensuring broader business model innovation. Source: Pfizer 
Source Image : Volodymyr Hryshchenko and CWEB