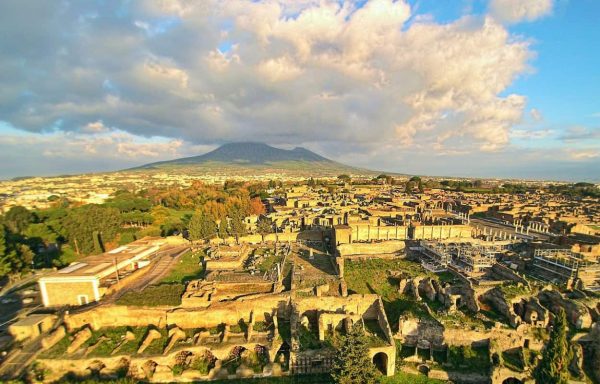 Pompeii, a must-see destination in Italy, has been in the news, once again with the discovery of a beautifully preserved, colorfully frescoed snack bar. This thermopolium, which means hot drink counter in Latin, was discovered during excavations in the eastern Rego V site. Pompeii had approximately 80 thermopoliums.
Pompeii was an ancient city, with a well-developed culture and a population of around 13,000 people. In 79 AD, Mount Vesuvius erupted burying the entire city in volcanic ash. In the sixteenth century archaeologists discovered its ruins. To date around two thirds of the site has been excavated and new discoveries come up including the food counter which was discovered on Saturday.
The food counter has been covered with well etched frescoes depicting poultry: a chicken and two mallard ducks. It has circular holes, which were presumed to hold jars. Archeologists believe that the frescoes indicate the contents within the food bar. What is fascinating is that 2000-year-old remnants of food including fragments of pork, fish, beef were found. Traces of duck bones and crushed fava beans were also present.
The site also brought forth cooking equipment including a bronze bowl, perhaps used for beverages. Wine flasks and ceramic jars were also excavated from the site. The findings suggest that the counter was hurriedly abandoned when Mt. Vesuvius erupted as mentioned by Massimo Osanna, director general at the Archaeological Park of Pompeii, according to the Guardian. The skeleton of a man aged about 50 years was found close by, suggesting that he might have got caught unexpectedly in the eruption.