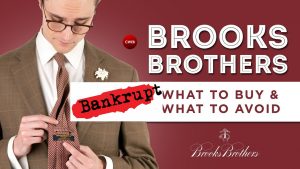 Brooks Brothers are looking for a buyer as it goes through BK reorganization. It's closed 51 of the 250. Brooks Brothers of 500 stores worldwide.
One reason for Brooks Brothers' had problem with its big rent obligations, but the company was also feeling some effects of a change in traditional business dress and shift towards casual.
Men's Wearhouse owner Tailored Brands (TLRD), facing its own bankruptcy question.
Barneys of New York, sought bankruptcy protection last year, and it was followed by others suffered by the pandemic, including Neiman Marcus, J.Crew and J.C. Penney.
More bankruptcies are anticipated in the retail sector.
The virus-induced recession has cratered spending in most sectors of the economy and accelerated shifts in where people shop, mostly to the benefit of online retailers like Walmart.