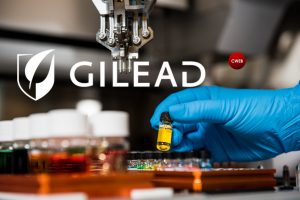 Gilead Sciences Inc GILD:NASDAQ  rose 2.1% after for the Coronavirus treatment candidate drug, Remdesivir. The drug reported an  improvement in clinical recovery with a 62% reduction in the risk of mortality compared with standard of care in a trial.Gilead is dedicated to developing innovative medicines for life-threatening illnesses.
Gilead Sciences has a  Market Cap of 95.7B.
Based on 25 analysts offering 12 month price targets for Gilead Sciences in the last 3 months. The average price target is $79.88 with a high forecast of $97.00 and a low forecast of $64.00. The average price target represents a 4.75% increase from the last price of $76.26. Source TipRanks
Daniel O'Day Chairman and Chief Executive Officer, Gilead Sciences, Inc. Prior to Gilead, Daniel served as the Chief Executive Officer of Roche Pharmaceuticals. His career at Roche spanned more than three decades, during which he held a number of executive positions in the company's pharmaceutical and diagnostics divisions in North America, Europe, and Asia. He served as a member of Roche's Corporate Executive Committee, as well as on a number of public and private boards, including Genentech, Flatiron Health and Foundation Medicine.  Source: 
Forward-Looking Statement
This statement includes forward-looking statements, within the meaning of the Private Securities Litigation Reform Act of 1995 that are subject to risks, uncertainties, and other factors. Remdesivir is an investigational agent that has not been approved by the FDA for any use, and it has not been demonstrated to be safe or effective for the treatment of COVID-19. There is the possibility of unfavorable results from ongoing and additional clinical trials involving remdesivir and the possibility that Gilead and other parties may be unable to complete one or more of such trials in the currently anticipated timelines or at all. Further, it is possible that Gilead may make a strategic decision to discontinue development of remdesivir or that FDA and other regulatory agencies may not approve remdesivir, and any marketing approvals, if granted, may have significant limitations on its use. As a result, remdesivir may never be successfully commercialized.Source: Gilead.
Top Institutional Holders
Holder  Shares  Date Reported  % Out    Value
Vanguard Group, Inc. (The)          107,093,415        Mar 30, 2020      8.54%    8,006,303,705
Blackrock Inc.     101,214,991        Mar 30, 2020      8.07%    7,566,832,727
Capital Research Global Investors             95,982,319           Mar 30, 2020      7.65%    7,175,638,168
State Street Corporation               56,805,210           Mar 30, 2020      4.53%    4,246,757,499
Capital International Investors   56,369,657           Mar 30, 2020      4.49%    4,214,195,557
GILD:NASDAQ   CWEB Analysts view the stock as a long term growth and a great addition to your investment portfolio with an upward momentum of $300 by 2021 contingency of a successful drug to cure Corona.