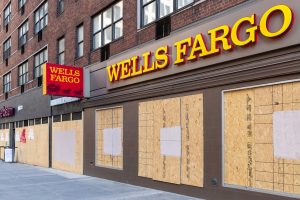 Wells Fargo & Company (WFC) posted a deeper  expected second-quarter loss than expected. Losses were wider  due to the COVID-19 pandemic. Profit and earnings for the bank have been reported a net loss of 2.4 Billion. Wells Fargo will slash its dividend to 10 cents a share from the 51 cents
Wells Fargo's last dividend payable on June 1st, 2020 was $0.51 per share. The bank cut its dividend to .10 cents per share based on the current news.
Net loss of $2.4 billion and diluted loss per share of $0.66
Revenue of $17.8 billion, down from $21.6 billion in second quarter 2019
Net interest income of $9.9 billion, down $2.2 billion
Noninterest income of $8.0 billion, down $1.5 billion
Noninterest expense of $14.6 billion, up $1.1 billion from second quarter 2019
Second quarter 2020 included:
Operating losses of $1.2 billion, primarily due to customer remediation accruals
Personnel, occupancy, and technology expense of $382 million related to the COVID-19 pandemic
Wells Fargo buys $14B of delinquent mortgages tied to pandemic for roughly $20 billion in loans total from investors that were over 90 days past due.
"Wells erred on the side of caution and put more people into forbearance programs in April than other servicers, on average," said Scott Buchta, head of fixed-income strategy at Brean Capital. "When the loans become delinquent, it's cheaper for Wells to buy the loans than to advance principal and interest and pay a 4% coupon to investors when their cost of funds is lower." Source: American Banker
Chief Executive Officer and President Wells Fargo & Company Charles W. Scharf is chief executive officer and president, and a member of the Board of Directors of Wells Fargo & Company. A financial services veteran with 24 years of experience in leadership roles in the banking and payments industries, Charlie served as chief executive officer of Bank of New York Mellon from July 2017 to October 2019 and the chairman of its board from January 2018 to October 2018. He also was chief executive officer and a director of Visa Inc. from November 2012 to December 2016. Source Wells Fargo