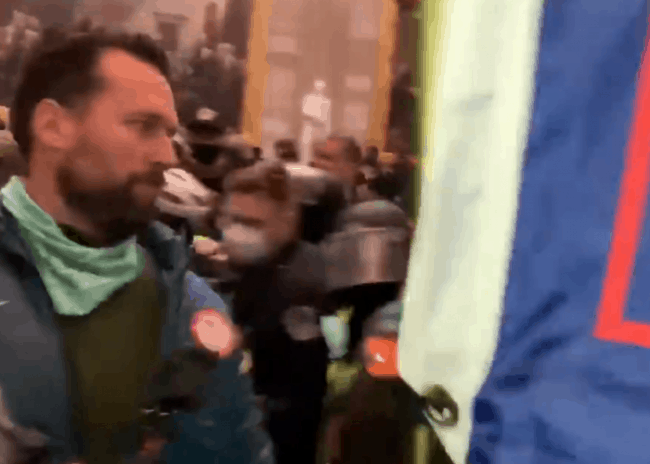 American citizens, horrified by the rioters invading the Capitol, have come forward to identify protesters from videos and photos.
Former teammates and coaches identified a world-class swimmer and Olympic gold medalist in a video posted by a conservative Townhall. It showed a towering figure much over six feet in height who was one among a crowd who were allegedly pushing around police officers. The officers were trying to guard the Rotunda from protesters who had unlawfully entered it.
Swimmer Klete Keller was identified as the towering figure in the crowd that surged forward and entered the Capitol. He was recognized by his size and by the fact that he was wearing a U.S. Olympic team jacket. This jacket has "USA" emblazoned across the back and the sleeves. Although he had a green covering that could have obstructed his identity, it hung loosely across his neck and his face and his beard could be seen and identified from the video.
I finally compiled all the videos I took during Wednesday's riot at the Capitol building. It shows the large crowd fighting the police and what it looked like inside the Rotunda after it was breached.

Full video—> https://t.co/HFAFfuW98S pic.twitter.com/eBOcZujt15

— Julio Rosas (@Julio_Rosas11) January 11, 2021
SwimSwam, a swimming news site, was the first to identify him at the riots, followed by several people who also reported him. Some of them were surprised to see him as a part of the crowd. He has also been unavailable for comments.
His social media accounts have been wiped clean. However, past messages include pro-Trump ones. Although no video of him indulging in violence have come up, his presence itself at the Capitol, puts him in legal problems including unlawful entry and disorderly conduct.
The three-time Olympic gold medal winner who led the Americans to victory in 2004 with a swim-off in the relay against Ian Thorpe, the gold medallist from Australia, was working with a real estate agency, Hoff & Leigh, in Colorado Springs. His profile and nearly all references to him have been removed from the company's website.