By Leslie Cohen: Managing Editor CWEB
Retailers and JC Penny Are on The Rebound – CWEB.com
J.C. Penny (JCP) is closing some stores across the USA. Closing unprofitable stores will result between $20 million and $25 million in savings, furthering its efforts to become more profitable and improve shareholder value.
J.C. Penny (JCP) reported revenue of $4.03 billion. Same store comparable sales rose 2.6%
CEO Marvin Ellison said in a statement, "In 2018, we will intensify our market share efforts in Appliances, Mattresses and Furniture, while continuing to take steps to modernize our apparel assortment and omni-channel,"
JC Penny's women's apparel business will be improved with what consumers want.
The company will continue to improve upon stylish offerings for women's apparel increasing foot traffic in the store and online.
J.C. Penny (JCP) will also be marketing to a more multi-cultural audience to lure customers in that are in the women's plus size market and items that appeal to a larger age ranges and capturing shoppers from the age range of 18-44 aside from its current customers average age range of 51. A strong key point to get the younger shopper in the stores with its partnership with Sephora.
JCP announced it will open 27 additional Sephora stores in 2018.The JC Penny hair salons in the stores are also being re-branded, which in fact is one of the largest hair salon chain in the country. CEO Marvin Ellison stated," Penney's salon customers visit a store twice as often as non-salon customer."
The company plans to hire 6,500 stylists.  On the beauty end, JC Penny plans to engage more with the customer by hosting in store beauty educational events at Sephora and its hair salons.
Pam Mortensen SVP of merchandising for JC Penney's jewelry business believes "The fine jewelry customer is a very loyal customer," Mortensen added, "They actually cross-shop more than any other department."
On the bright side, JCP Billionaire David Einhorn head of Greenlight Capital made some of his most significant purchases in J.C. Penny (JCP). Greenlight Capital acquired about 6.4 million shares of J.C. Penney stock in the final three months of 2017. The average purchase price for the stock was $3.22.
Looking forward. J.C. Penny (JCP) took on a $400 million in second-lien debt to help repurchase its near-term debt maturities. Investors willing to speculate on the stock may have the opportunity for an investment in a turnaround play.
J.C. Penny (JCP) shares are simply too cheap with potential to exceed expectations in 2018.
J.C. Penny (JCP) competitors are:
Groupon (NASDAQ:GRPN) which trades around $5 with a huge upside
Overstock (NASDAQ:OSTK) which trades $60
Dillards (NYSE:DDS) which trades $88
Nordstrom (NYSE:JWN) which trades $52
Macys (NYSE:M) which trades $30
Walmart (NYSE:WMT) which trades around $88
Etsy (NASDAQ:ETSY) which trades around $25
Sear's (SHLD) trades around $3
Gap (NYSE:GPS) which trades around $34
BABA (NYSE:BABA) which trades around $180
Amazon ( NASDAQ:AMZN) which trades around $1500
CWEB Analyst's have initiated a Buy Rating for J.C. Penny (JCP)  and a Price Target of $10 – $20 within 12 months.
Read Full Article and Videos CWEB.com – Trending News, Blog, Shopping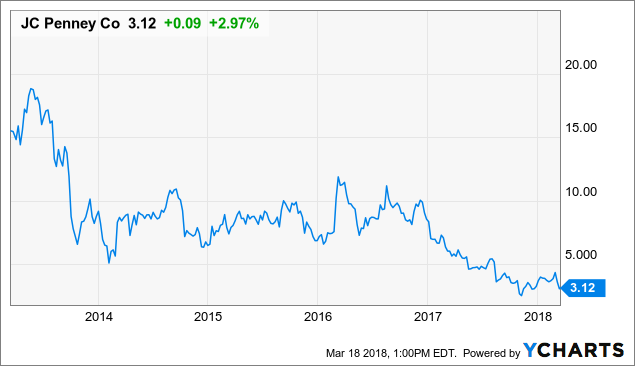 Comments