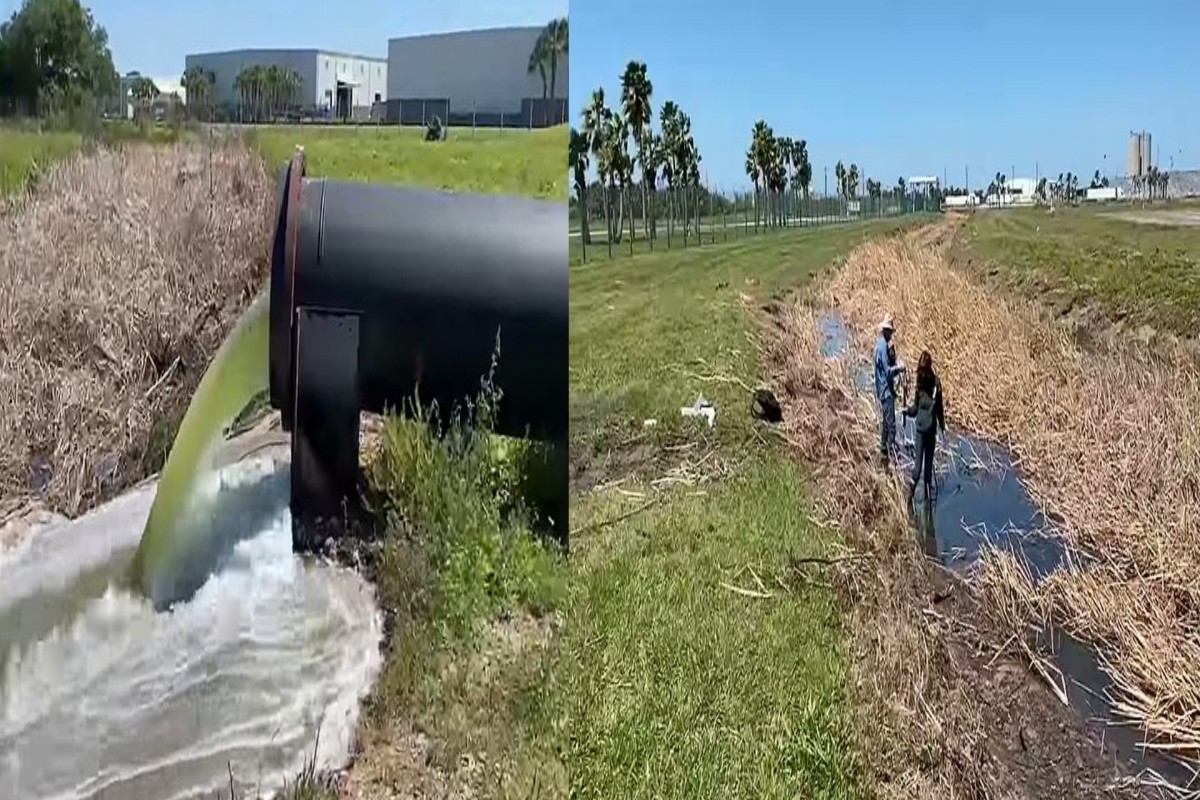 On Saturday, Governor Ron DeSantis declared a state of emergency after the leak in a large pond in Florida could not be contained. It has the potential to flood roads and agricultural lands with contaminated water and could also lead to other ponds getting affected if the breach remains uncontrollable.
The leak was discovered on Friday at the Old Piney Point phosphate mine. It is located in Tampa Bay area north of Bradenton. The residents of over 300 homes have been evacuated and a highway has been closed. Officials say that their main concern is flooding and they called the water "slightly acidic."
More homes were evacuated later on Saturday.
The water is not expected to be toxic and is said to meet "most water quality standards for marine waters. However, officials describe it as acidic and it also contains elevated levels of nutrients and its pH is high due to excess of "total phosphorus, total nitrogen and total ammonia nitrogen," according to Noah Valenstein, Secretary of Florida Department of Environmental Protection.
Florida Director of Biological Diversity, Jaclyn Lopez told Bay 9 that "it had a history of repeated leaks and breaches and discharges into Tampa Bay." He also added that this latest leak has been the most alarming and it has caused "this public notice" that has forced the evacuation and "the governor to declare a state of emergency."
According to the Florida Phoenix the site has been "one of the biggest environmental threats in Florida history" from several decades.
Jake Saur, Manatee County Director of Public, told CBS News that a portion of the containment wall at the site of the leak had shifted laterally and this signified that "structural collapse could occur at any time."
#PineyPoint This makes me so angry. This problem didn't just happen. It's been ignored for so many years and now this… https://t.co/yDwYaA4yuW

— Da4dogs (@da4dogs) April 4, 2021
Agriculture Commissioner Nikki Fred wrote a letter urging the governor and state to tackle the problem as this has been a recurring one from 50 years as the property changes hands. Patch up action has always been taken only after breaches or leaks are discovered.
Sen. rick Scott tweeted that "All Manatee County residents should remain alert and follow local and state guidelines." The question is "What about the gentle manatees and other marine creatures and fauna in and around Tampa Bay? How will they stay alive when the firms in the state and county disregard environmental guidelines?