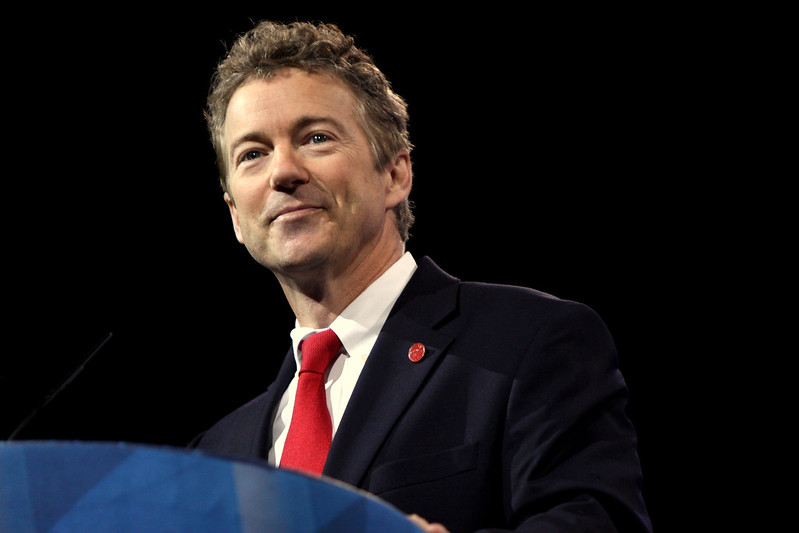 The FBI has begun investigations on a suspicious package that was received by Senator Rand Paul in his home in Kentucky, on Monday. A message reads: "I'll finish what your neighbor started, you motherf**ker." Initial investigations show that it is a harmless white powder. However, it has been sent for further analysis. A doctored image of the Kentucky senator and a threatening message were also in the package. The senator has recently been in the news for refusing to take a COVID-19 vaccine as he said that he has natural immunity, and he also called the choice to be vaccinated an "individual" one.
Senator Rand Paul was sent a suspicious package and the authorities investigated it. It contained white powder, a doctored image of the senator which shows him heavily bandaged and using a crutch to walk as a rifle appears aimed at his head.  
The Bowling Green Fire Department's WMD team conducted a preliminary investigation which indicated that the powder was nontoxic. However, the Warren County Sheriff's office said that both the package and the substance would be sent for further analysis.
In 2017, Paul had suffered grievous injuries including six broken ribs when he was assaulted by his neighbor Rene Boucher, for reportedly planting trees that blocked Boucher's property view of a private lake. Boucher said that he had been unable to sell the property because the trees blocked the view.
Boucher was sentenced to eight months in prison for the assault. The senator also received huge financial reparations. On Sunday, Richard Marx, a rockstar of the eighties tweeted support for Boucher and was blasted by Rand for his tweet. Later, Marx said that it was a "wisecrack" and not "incitement to violence." The tweet was a reaction to Paul's comments that he would not get vaccinated.
The vaccination issue has been creating waves as resistance to it has been building up recently. The Biden administration has been ramping up efforts to increase the number of vaccinated to reach herd immunity. It is also roping in celebrities in its efforts to remove hesitancy. However, when public figures including influencers and congressmen speak against vaccination, there is a backlash mainly on social media against them. This is the first time a physical threat has been issued to Senator Rand Paul.
Photo