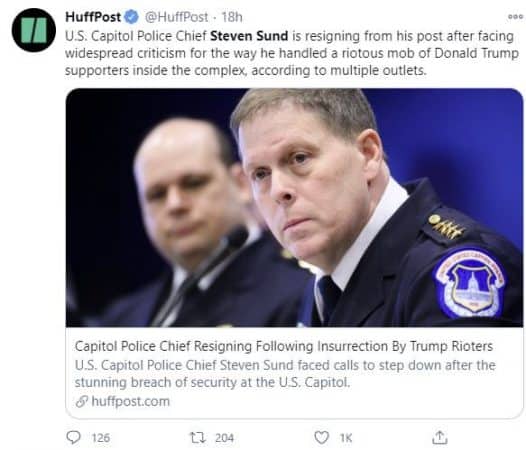 Chief Steven A. Sund has resigned from his position amid criticism from many people, including his colleagues, for the manner in which the pro-Trump mob ran amok, destroyed property as well as the image of America as a democracy. His resignation will go into effect a few days before President-elect Joe Biden assumes office.
Union Chairman Gus Papathanasiou stated that officers were frustrated and demoralized by the lack of leadership which undermined the police's response to the mob. Although he blamed the outcome on a  failure to plan, he praised officers who worked hard to save lives over property.
The statement said: "Not one member of Congress or their staff was injured. Our officers did their jobs. Our leadership did not." The statement was close enough to call for the Chief's resignation.
Earlier on Thursday, Sund had called the officers' actions as "heroic," while calling the insurgency as "criminal riotous behavior."
On the same day Joe Biden called the police response to the pro-Trump mob as double standards. He strongly criticized the lack of action taken against the riotous mob and said that if the group had been  Black Lives Matter protesters, they would have been treated very, very differently from the "mob of thugs" that stormed the Capitol.
On NBC's Today show, the former U.S. Capitol Police Chief was critical of the police's response calling  it a "failure" and also said that it "raises a lot of questions."
Two defense officials told NBC News that the National Guard has been mobilized for 30 days and will be present on ground on Biden's inauguration on January 20, 2021.