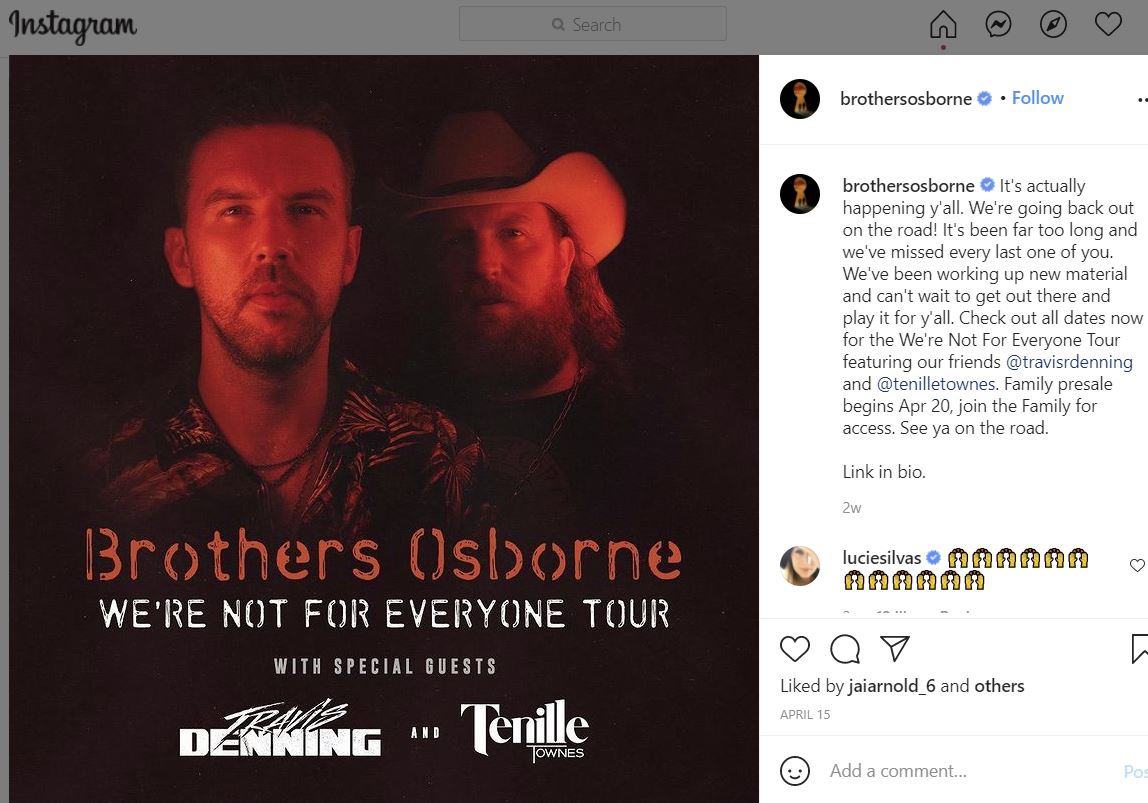 House Republicans in Tennessee blocked a measure in Tennessee to honor TJ Osborne. One of the two singers in the Brothers Osborne duo, TJ recently came out as gay and this is the reason for the block accordingly to many. Although it was mentioned as a procedural objection, Rep. Jeremy Faison, who is the Chair of the House Republican Caucus, is the lawmaker responsible for blocking it.  He has a history of courting national controversy because of his anti-LGBTQ stance.
The Brothers Osbourne tweeted that they have lived in Tennessee for over half of their lives. They mentioned that Jeremy Faison had honored Ben Shapiro who didn't even live in the state. They said that they would like to have lunch with him one day and they would host it as they would really like to know more about him "as a person."
Kacey Musgraves, also a country star, posted her sadness on this incident saying that she was massively disappointed in the Tennessee House Republicans for blocking her friend TJ Osborne "for being honored because HE'S GAY!?
Faison was called out by the Tennessee Holler who tweeted that Jeremy Faison blocked a resolution to honor Tennessee's gay country music star TJ Osborne of the Brothers Osbourne "for no reason other than blatant bigotry and spite" after it passed the Senate 30-0. The tweet also said that there was so much hate in the state.
Maren Morris recently collaborated with the Brothers Osbourne on the song "All My Favorite People" for her latest album retweeted the Tennessee Holler tweet.
Tennessee is slowly becoming rather conservative and anti-gay, despite having a sizeable population of the community. Legislation is being considered against the community and 40 businesses who have a say in Nashville's music industry signed an open letter saying that the members of the Tennessee General Assembly were considering bills that were misguided and would lead to discrimination against the LGBQT community in the state. The latest step in discrimination is blocking a measure to honor one of Tennessee's greatest country music artists — TJ Osbourne.
We've lived in this state for over half of our lives. @JeremyFaison4TN honored Ben Shapiro who doesn't even live here. Jeremy, let's have lunch one day. On us. Would really like to know more about you as a person. https://t.co/00w2rdwCec

— Brothers Osborne (@brothersosborne) May 4, 2021
Photo Source: Instagram
Source  https://www.yahoo.com/entertainment/tennessee-measure-honoring-gay-country-003930923.html