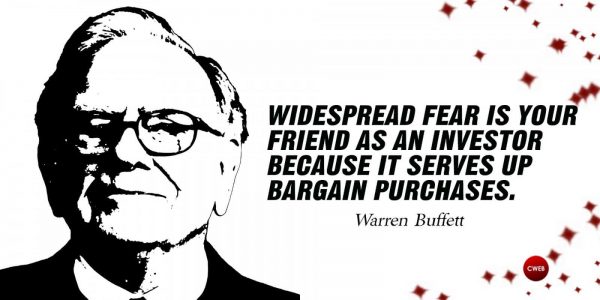 Warren Buffets says If you are looking to buy a home or borrow money this is the time to do it. The FED has lowered interest rates on refinancing a mortgage and getting a loan for a new home.
Credit card debt is has increased during the pandemic. Make sure to pay off those high balance credit cards first Buffet recommends. Warren Buffett sold his shares of Delta Air since no one was flying during the Covid-19 in pandemic.
Warren Buffett puts investors at ease saying while things look terrible now, the United States has an extraordinarily strong economy and it will bounce back after the crisis is over.
And as Buffett always agrees, stocks should long-term investments in order to see the biggest gains. Things will turn around- so hold on to your Investments or re balance your portfolio accordingly .
Buffett's Berkshire Hathaway profited  $1.8 billion in net stock purchases in the first quarter of 2020, and bought back just $1.7 billion in stock, gaining in a  cash pile growing to $137 billion.
Warren Buffet purchased $10 million Apple shares in May 2016. He holds $245 million shares, now worth more than $95 billion. 43% of Berkshire Hathaway's entire stock portfolio is tied to Apple Stock.
Warren Buffett's Top Holdings:
Bank of America (BAC), 925 million.
Coca-Cola (KO), 400 million.
Kraft Heinz (KHC), 325.6 million.
Apple (AAPL), 245.2 million.
Wells Fargo (WFC), 237.6 million.
American Express (AXP), 151.6 million.
U.S. Bancorp (USB), 131.9 million.
General Motors (GM), 74.7 million.