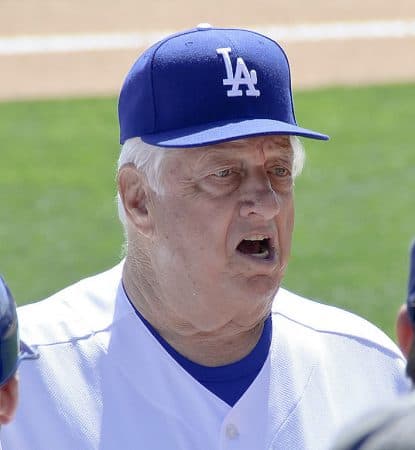 Los Angeles Dodgers manager, Hall of Fame manager and baseball ambassador Tony Lasorda died after succumbing to a heart attack in his Fullerton home in California. He was 93. He was pronounced dead at a hospital just before 11 p.m. on Thursday. He had been suffering from heart ailments from many years.
Lasorda played many roles in baseball and was with the Dodgers right from their early times in Brooklyn. He started as a player, a pitcher for the team. Later on, he became a scout and a manager for the Dodgers. He was one of the longest standing members of the team.
He led the Dodgers to victory several times in his career. They won two World Series Titles in 1981 and 1988. When he was the manager from 1977 to 1996 the team also won four National League pennants and eight division titles.
In 1997 he was elected as a manager of baseball's Hall of Fame. He was the guide behind whom the U.S. team rallied. The team won a gold medal, at the 2000 Sydney Olympics, for baseball.
He was a gregarious person, who used the carrot and stick approach to lead his team to great heights and victories. He was enthusiastic, vivacious and used colorful language which couldn't be printed by the press.
He loved food and baseball with almost equal passion. He said that he ate when the team won as a celebration and he ate when the team lost as a consolation. He was friendly with many celebrities including Frank Sinatra, Farah Fawcett and many other stars.
He is survived by his wife of 70 years, Jo, a daughter and a granddaughter. He lost his son in 1991.