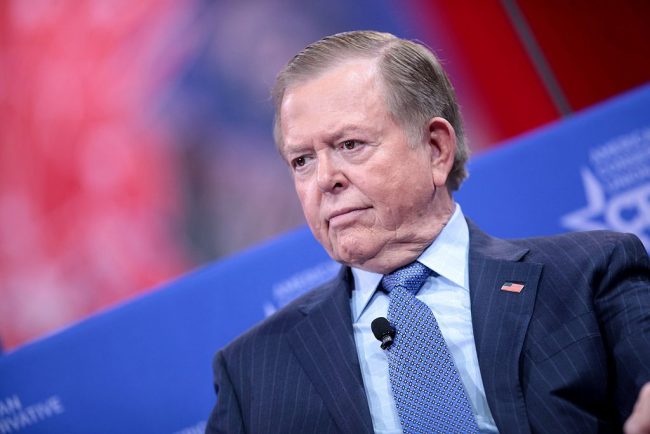 On Friday, Fox Business confirmed that Lou Dobbs, one among Trump's most ardent cable news supporters, is no longer a host at the network. Although he had a huge following and good ratings and is still under contract with the network, he will most probably not return to the airwaves. The LA Times was the first to report the cancellation of his show.
As expected Dobbs received support from Trump in a statement where he mentioned that the cable host loved America and that he had a large and loyal following who would wait and watch for his next move and that this following included Trump.
On Thursday, Smartmatic had filed a defamation suit against Fox network and had also named three Fox hosts as defendants, one of whom was Lou Dobbs. The suit said that the network had allegedly spread misinformation and false claims about the 2020 U.S. elections.
Fox Corporation said that the allegations in the lawsuit are incorrect. In a statement on Thursday it said that it was committed to providing the full context of every story. It stated that it conducted in-depth reporting and was proud of their election coverage. It also said that it will defend itself in court against what it called a "meritless lawsuit."
Dobbs did not host the show on Friday. The network said that the time slot will have a new program. It is called "Fox Business Tonight" and will be on air from Monday with Jackie DeAngelis and David Asman.
As is the norm with news organizations when there is a presidential transition, programs change. Fox News and Fox Business has also been reassessing programs and making changes. A fox news host, Martha MacCullum no longer has a 7 p.m. slot from last month. This slot now has an opinion show which is hosted by rotating hosts, as of now.
Lou Dobbs is a septuagenarian and has a decade long professional career with the Fox network. Many of his followers as well as the former President Trump will be waiting to see what he does next.
Dobb's  was fired from  Fox news one day after the election technology company Smartmatic filed a defamation lawsuit against Fox Corporation and Fox News. The lawsuit seeks $2.7 billion of damages and has named Lou Dobbs as an individual defendant along with two other Fox anchors  Jeannie Pirro and Maria Bartiromo.
Lou Dobbs is a loyal Trump supporter, and frequently talked about electoral fraud after President Trump lost the 2020 presidential election.
CNN's Brian Stelter has said even with his high ratings, Dobbs was causing trouble for Fox Business even before his lawsuit, reporting that his insistence on repeating Trump's false claims about election fraud scared off major advertisers. Source Vox News
Lou Dobbs ratings were extremely high and drew a larger audience than its competitor CNBC. The program was the top-rated show on the Fox Business Network.
 Congresswoman Liz Cheney retains House GOP leadership position despite impeachment vote against Trump
The New York Times reported an anonymous source at Fox said, on the day of siege at the U.S. Capitol, Mr. Dobbs described protesters as merely "walking between the rope lines."
Dominion Voting Systems sued the  lawyers who represented President Trump, Rudolph W. Giuliani and Sidney Powell about false claims they made as guests on The Fox news channel. Dominion claims the Defendants made false claims about Dominion helping President Biden win the election.
Lou Dobbs, now  75 years of age, had a long career. He became popular as a CNN anchor for the  business news. Dobbs started working with CNN at its inception in 1980. On the air, he served as host and managing editor of the network's business program, Moneyline, which started in 1980. The show was renamed Lou Dobbs Tonight in 2003.
Dobbs left CNN in  2011 and starred his own show at Fox Business with help of  the network's co-founder, Roger Ailes.