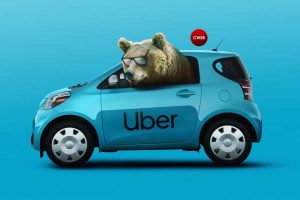 Uber Technologies, Inc. (UBER)  NYSE – reports Q2 2020 Earnings today.
Options traders are betting that Uber shares will rise when the Uber reports earnings Thursday afternoon.  The stock is up more than 13%  based on positive sentiment.Longtime growth and profitability look promising.
Looks like an earnings beat on the topside. Loss per share is expected to be at .66 cents per share versus last year at .60 cents per share.
Gross bookings are  now increasing as the went down due to Covid-19.Uber Eats will book $996 million in revenue for the June quarter , exceeding Rides Revenue for the first time ever.
Uber is buying a taxi software company  Autocab to expand in the UK. The software connects users with local taxi operators. This will help Uber reach another 170 regions in the UK. Uber still grapples with its appeal against a ruling that drivers should be classified as workers and not freelancers.
Uber acquired meal delivery service Postmates for $2.65 billion. The deal should close in Q1 2021.
The transaction is valued at approximately $2.65 billion, on a fully diluted basis, subject to a net debt adjustment
Postmates stockholders will receive 100% stock consideration
Uber equity issued in the transaction will be valued at $31.45, based on Uber's 10-day VWAP as of June 29, 2020
Uber has committed to provide bridge financing to Postmates during the process of obtaining regulatory approvals. Source Uber Investor Relations
Continued growth at scale in 2019 with Gross Bookings and Adjusted Net Revenue growing $15B and $2.6B YoY, respectively. Source: Uber Investor Relations
In other news, California labor commissioner sues Uber and Lyft for alleged wage theft by misclassifying drivers as independent contractors.  The state of Massachusetts sued Uber and Lyft over driver classification back in July.
Former Google executive Anthony Levandowski sentenced to 18 months for stealing self-driving car secrets and selling then to Uber. Levandowski is now  Uber for $4.1 billion.
Dara Khosrowshahi is the CEO of Uber, where he manages the company's fast-growing business in 63 countries around the world and leads a global team of more than 22,000 employees.Dara was previously CEO of Expedia, which he grew into one of the world's largest online travel companies. A seasoned executive with a background in both engineering and finance, Dara oversaw a number of acquisitions that bolstered Expedia's offerings and aggressively invested in mobile, which now accounts for more than half of Expedia's traffic.
Image Source Photo by Morning Brew on Unsplash