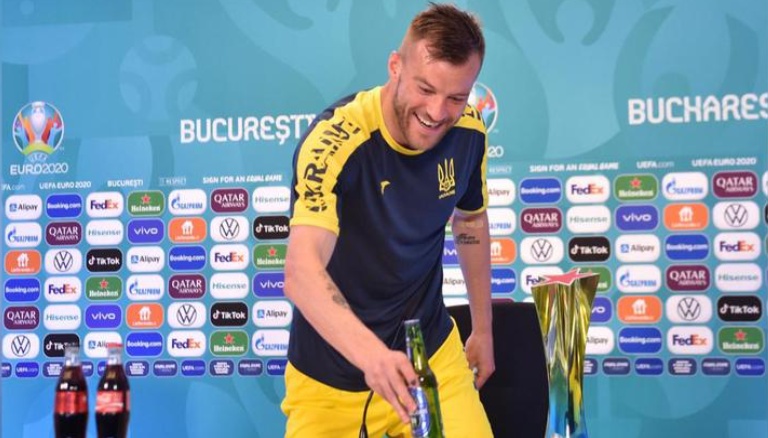 Recently Portugal captain Cristiano Ronaldo removed a couple of Coca Cola bottles in a post-match press conference of Euro 2020 on Monday, June 14, after Portugal won over Hungary and touted the virtue of water. The beverage giant's stocks fell by four billion dollars on Friday. This was followed by Paul Pogba removing Heineken bottles after France won over Germany on Tuesday, June 15. Later on, Manuel Locatelli removed  a Coca Cola bottle after Italy won over Switzerland on Wednesday 16. Both Coca Cola and Heineken are official sponsors of Euro 2020.
On Thursday, June 17, UEFA released a statement which said that UEFA was reminding participating  teams that partnerships were integral to the delivery of the tournament and were necessary for the development of football across Europe, for youth and women as well.
"I'm taking Coca-Cola, I'm taking Heineken. Get in touch with me!" 😅@CocaCola, @Heineken, Andriy Yarmolenko wants to speak to you! 🤝#EURO2020 | #UKR pic.twitter.com/ma8hliC6Lg

— Goal (@goal) June 17, 2021
A few days after Ronaldo's stunt, Ukraine's Yarmolenko took a jab at Ronaldo's act, on Thursday, June 17, during his post-match press conference after Ukraine's victory over North Macedonia. He told reporters, "Can I do something? I've seen Ronaldo putting away Coca-Cola bottles recently." He cheekily added, "I'll put Coca-Cola here, I'll put Heineken right here up front! Guys contact me."
Belgian Romelu Lukaku also supported the beverage giant by telling Coke to contact his agents for a new deal. England's captain Harry Kane said that he was unable to understand the fuss about the drink brands. He said that from his point of view, sponsors were entitled to have what they want, if they have paid the money to do so.
Although all the three players have a right to choose what they drink, their actions are not in consonance with team behavior. Carbonated drinks are unhealthy but so are fast foods, alcohol, tobacco, pot, highly processed foods and more. Is it going to become a trend that every time an unhealthy brand sponsors an event, someone will show displeasure against it?
Although every human being has the right to choose what they eat and drink, selective targeting of a brand reinforces a "holier than thou art" attitude against a sponsor. The action of promoting health is an excellent one but the forum, targeting brands who are official sponsors, brings to mind the concept of hypocrisy rather than morality.
Image Credit : Image Credits – UEFA.com