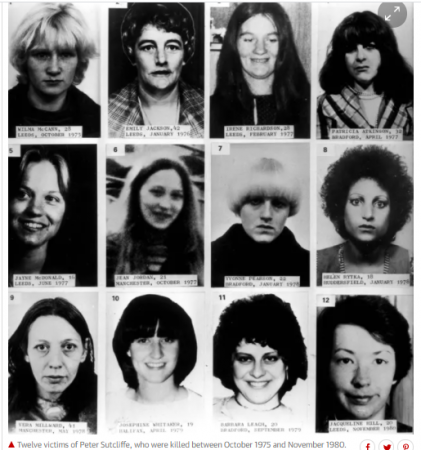 The British serial killer, Peter Sutcliffe, died at a hospital on Friday, at the age of 74. He had terrorized and murdered several women in Yorkshire and northwest England between 1975 and 1980. He was called the "Yorkshire Ripper" as many of his victims, were prostitutes. 
Sutcliffe was a grave digger. He attacked and killed many young women throughout Yorkshire and its neighborhood. Despite a huge manhunt, he evaded arrest several times due to incompetence of the investigators. He was interviewed nine times.
 He was arrested on Jan 2, 1981 in Sheffield, England. He later confessed but denied it, during the trial. On May 22, 1981 he was convicted of 13 counts of murder and seven cases of attempted murder. He was sentenced at London's Central Criminal Court to 20 concurrent life terms.
Jacqueline Hill, 20. Killed at Headingley on 16 November 1980
Wilma McCann, 28, from Chapeltown, Leeds, who was killed in October 1975.
Emily Jackson, 42, from Morley, Leeds. Killed on 20 January 1976.
Irene Richardson, 28, from Chapeltown, Leeds. Killed on 6 February 1977.
Patricia Atkinson, 32, from Manningham, Bradford. Killed on 24 April 1977.
Jayne MacDonald, 16, from Leeds. Killed on 26 June 1977.
Jean Jordan, 21, from Manchester, who died between 30 September and 11 October 1977.
Yvonne Pearson, 22, from Bradford. Killed between 20 January and 26 March 1978.
Helen Rytka, 18, from Huddersfield. Killed on 31 January 1978.
Vera Millward, 40, from Manchester. Killed on 16 May 1978.
Josephine Whitaker, 19, from Halifax. Killed on 4 April 1979.
Barbara Leach, 20. Killed while walking in Bradford on 1 September 1979.
Marguerite Walls, 47, from Leeds. Killed on 20 August 1980.
 "It was just a miracle they did nor apprehend me earlier – they had all the facts," he said.
 After being convicted, he was in Broadmoor Hospital in Berkshire for a long time. In 2016 he was transferred to HMP Frankland as he was said to be stable enough to serve his sentence in prison. 
A Prison Service spokesman said, "HMP Frankland prisoner Peter Coonan (born Sutcliffe) died in hospital on November 13. The Prisons and Probation Ombudsman has been informed."
 He had tested positive for COVID-19 and was suffering from a large number of health conditions. He refused treatment and his death will be investigated.
 Source NBC news