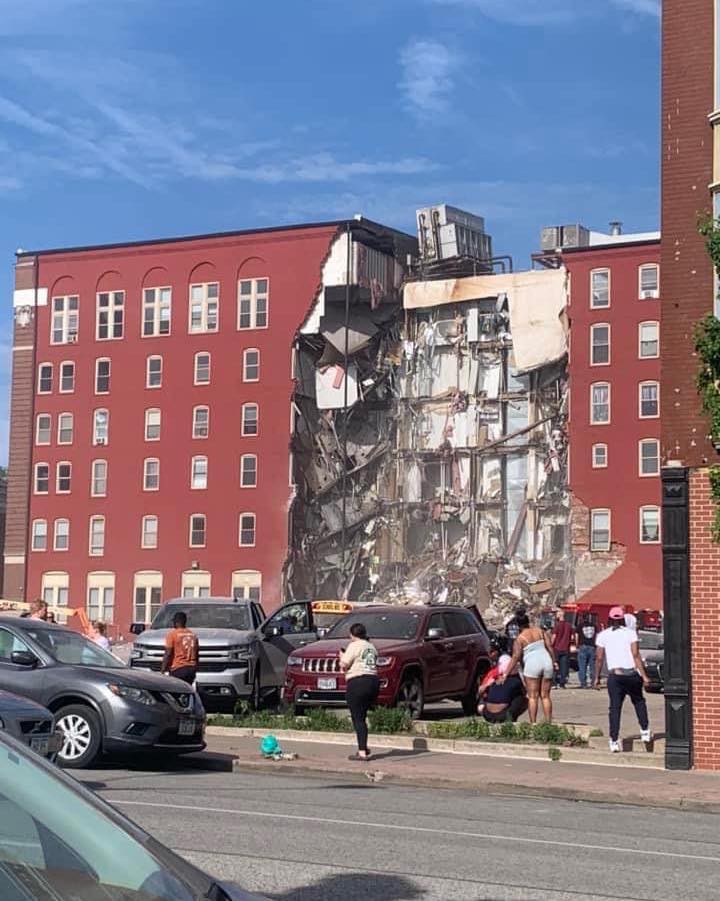 The building collapsed at 324 Main St. in Davenport, Iowa Davenport was 116 years old and six stories. Five people are still missing after the six-story building's rear fell on Sunday afternoon, and authorities think two of them may still be inside, according to Mayor Mike Matson on Tuesday. After authorities declared the apartment building in Davenport, Iowa to be abandoned and prepared for demolition, a survivor was discovered a full day after it partially collapsed. Family members and friends are pleading with the authorities not to demolish the building yet. Authorities say that the building is not safe to enter to search for those that are still missing.
A day after the collapse a missing woman was found when she was seen out of a window just when they were to go ahead and demolish the building. She hid under the couch to survive. Eight people were rescued.
Many tenants complained of faulty plumbing and toilets that were not working and they also had issues with the air conditioning and heat not working. Plumbing issues and cracks in the walls were also some of the complaints from tenants. The building's management office, Village Property Management, was contacted dozens of times with different complaints from various tenants. According to court records, the building's overflowing dumpster was the cause of the city declaring it a nuisance in May 2022 "due to numerous solid waste violations."
OrganicGreek.com Vitamin Bottles. Hydrogen Alkaline Generator Water + Filter 4 in 1 Design 500mL (16.9 FL OZ) for Only $8.99
Former and recent tenants of the historic Iowa apartment building that partially collapsed over the weekend say they had complained to management for years about cracks in the walls, a lack of heat and air conditioning, and plumbing woes — but were consistently ignored. It was reported by one of the tenants in the building that someone only showed up once to repair something with a toilet.
Proactive tenants did contact the city of Davenport to file numerous complaints, but they never heard anything back. When asked if the city of Davenport did acknowledge the reports, they said that the building was safe.
According to a court document submitted on Tuesday, the building's owner, Andrew Wold, has been cited for failing to keep it in a safe and structurally sound condition. If he is found guilty or chooses not to contest the citation, he will be subject to a $300 fine and court fees, the document states. County records show Andrew Wold's Davenport Hotel, L.L.C. purchased the structure for $4.2 million in 2021. Inspectors reported comparable issues 19 times between then and March 2023; Wold did not fight the nuisance declaration, according to records. When Wold failed to show up for court, the city filed a civil enforcement action, and a judge eventually ordered him to pay a $4,500 fine.
As investigations continue into the cause of a partial building collapse in Davenport, Iowa, the city of over 100k people is taking center stage in a delicate conversation around accountability, tenants, and socio-economics pic.twitter.com/E2cW7rz33z

— NowThis (@nowthisnews) June 1, 2023
To conduct an impartial structural damage assessment, structural engineers and representatives from the property owner's insurance company also went to the location on Wednesday, the city reported.
According to online inspection and permission notes, an interior cinder block wall with rebar and grout was halfway erected as of last week. Plans were for rebuilding 100 feet of brick to conform with city regulations starting on May 25. Unfortunately, it was just too late.
Celebrity News Update. Premier Jewelry designer and manufacturer fashion house ParisJewelry has started manufacturing a new custom line of celebrity jewelry designs with 30% Off and Free Shipping. Replenish Your Body- Refilter Your Health with OrganicGreek  Vitamin Bottles, Vitamins and Herbs. Become a WebFans Creator and Influencer.
Watch: Tragedy Strikes Iowa: Apartment Building Collapse Leaves Five People Missing